Mysteryville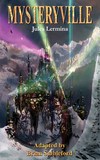 MYSTERYVILLE
by Jules Lermina
adapted by Brian Stableford
cover by Vincent Laik

"He cannot offer us any real guarantee that his existence will not threaten the city that we have called Paris-in memory of the old capital from which we were driven out-and which our poets have called Mysteryville! Yes, we live in Mysteryville, and it is necessary that mystery should continue to envelop us forever…"


Driven from China by the Boxers, explorer Alcide Trémalet chances upon a secret futuristic city created in the 18th century by French Protestants fleeing persecution. This New Paris, or "Mysteryville," has mastered the use of sound and light. But will his arrival trigger a civil war with those who seek to rejoin, and perhaps conquer, the outside world and those who wish to preserve their isolation?


Mysteryville (1905) is one of Jules Lermina's most original novels. This book also includes his macabre classic story Twice Dead (1895).

Contents:
- Mysteryville (Mystère-Ville; 1905);
- Twice Dead (La Deux Fois Morte; 1895)
Introduction and Notes by Brian Stableford.