The Adventures of Marius Pégomas, Marseille Detective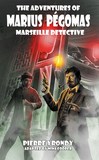 THE ADVENTURES OF MARIUS PÉGOMAS, MARSEILLE DETECTIVE
by Pierre Yrondy
adapted by Nina Cooper
cover by Genkis
"I wouldn't bet on their heads staying on their shoulders if you take charge of the investigation. Because, on my faith as Commissioner of Police, Monsieur Pégomas, you're an ace!"


US$ 22.95 /GBP 14.99
5x8 tpb, 288 pages
ISBN-13: 978-1-61227-622-9
Pierre Yrondy, the author of The Adventures of Thérèse Arnaud of the French Secret Service, penned those of Marius Pégomas, Marseille Detective, serialized in 35 installments published in 1936. Six of these are being translated here for the first time.

Pégomas is one of the first "regional detectives" and, physically, bears some resemblance to Agatha Christie's Hercule Poirot. He is a portly, yet remarkably fit, crime-solver whose talents prove invaluable to Police Commissioner Santelli. In this collection, he tackles to the villainous Gangsters of La Joliette, an Opium-trafficking ring and a female serial killer nicknamed the "Ogress" of the Canebière.

Yrondy's style is characterized by staccato-delivered sentences, sprinkled with local slang, which give the stories a sense of immediacy and realism.
Contents:
Introduction
Bibliography
The Gangsters of La Joliette.
A Crime at the Etang de Berre.
The Opium Dealer.
Tied to the Tracks.
The Ogress of the Canebière.
A Cemetary in a Garden.