The Guardian of Senegal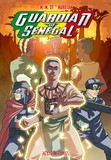 THE GUARDIAN OF SENEGAL

Story: Mouhamadou Moustapha Sy - Art: Narotam

Cover: Narotam

Editor: Jean-Marc Lofficier

Kanta, the Guardian of Senegal, made his first appearance in The Partisans #2, a story that took place in 1942, pitting him against Nazis and emissaries of the evil god Set, and aided by Baroud, the amazon Antales and a young Tanka. However, his origins were not detailed until now.

it took two years to put together the authentic Senegalese writer-artist team who produced this issue. Writer M. M. is the author of Sapiens Vampiris, a novel published in 2021 to critical acclaim. Artist Narotam works as a political cartoonist for the Senegalese newspaper, Le Politicien.

The story spans the period between 1914 and 1938 and features the Senegalese Tirailleurs ("Riflemen"), a corps of infantry created in 1857 who fought courageously during World War I.


7x10 squarebound comic, 52 pages b&w
ISBN-13: 978-1-64932-263-0. $12.95