Doc Ardan: The Fall of Inramonda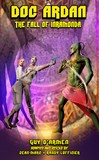 DOC ARDAN: THE FALL OF INRAMONDA
by Guy d'Armen
adapted and retold by J-M. & R. Lofficier

cover by Phil Cohen

In The Fall of Inramonda (1929), young Doc Ardan and his father are exploring the remotest regions of Upper Siam (now Thailand). There, they encounter a race of artificially-created green-skinned men, the "Jade Men", who live a recluse existence in the mysterious underground city of Inramonda, ruled by His Eternal Wisdom, the Jade Lord. With the assistance of British Archeologist Archibald MacSlaine and his daughter Margaret, the two Ardans manage to defeat the immortal villain and destroy Inramonda, but not before more treasure come flowing into the family coffers.

Scientist and world-saving explorer Doctor Ardan was created in 1928, five years before Doc Savage. These two ground-breaking SF adventures have been translated by award-winning authors Jean-Marc & Randy Lofficier.

Contents:
La Fin d'Inramonda (1935)
Introduction by Jean-Marc Lofficier