French Tales of Cataclysms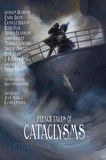 FRENCH TALES OF CATACLYSMS
stories by Georges Bethuys, Raoul Bigot, Camille Debans, Henri Falk, Alfred Franklin, Louis Gallet, Maurice Leblanc, Eugène Mouton, René Pujol, J.-H. Rosny Aîné, Colonel Royet and Pierre Véron
translated by Brian Stableford (with the exception of The Tremendous Event)
edited by J.-<. & Randy Lofficier
cover by Mike Hoffman
US$29.95 - 6x9 tpb, 416 p. - ISBN-13: 978-1-64932-110-7



TABLE OF CONTENTS

Pierre Véron: The Paris Deluge.
Eugène Mouton: The End of the World.
Alfred Franklin: The Ruins of Paris in 4875.
J.-H. Rosny Aîné: The Cataclysm.
Camille Debans: The Story of an Earthquake.
Louis Gallet: The Death of Paris.
Georges Bethuys: Cataclysm..
Raoul Bigot: The Iron That Died.
Henri Falk: The Age Of Lead.
Maurice Leblanc: The Tremendous Event
René Pujol: The Black Sun.
Colonel Royet: On the Brink of the World's End.