Guardian of the Republic/Kit Kappa/Night Prince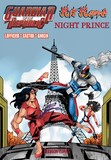 GUARDIAN OF THE REPUBLIC & KIT KAPPA & THE NIGHT PRINCE by Jean-Marc Lofficier, Roberto Castro & Eduardo Garcia, cover by Eduardo Garcia.

Story: The Guardian and young Marianne confront the mad robot Number-One alongside the Night Prince. Then, assisted by Kit Kappa and CLASH agent Joanni Bourask, they must fight the real villain: Astaroth.

7x10 squarebound comic, 48 pages b&w
ISBN-13: 978-1-61227-XXX-X - US$9.95