Guardian of the Republic/Phenix/Super-Patriots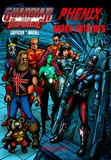 GUARDIAN OF THE REPUBLIC & PHENIX & THE SUPER-PATRIOTS by Jean-Marc Lofficier & Alfredo Macall; cover by Alfredo Macall

Story: On holiday in Australia, the GUARDIAN crosses the path of the formidable and deadly KUDLEY KOALA. With the help of PHÉNIX, he is forced to fight the SUPER-PATRIOTS... THE SOUTHERN CROSS, YANKEE FIGHTER, BIG BAD BEN, HAZEL TOUGH, COMRADE SICKLE & TOVARITCH HAMMER. But behind all of this are the grim schemes of the ASTRA PROJECT that will shape our hero's future!

7x10 squarebound comic, 48 pages b&w
ISBN-13: 978-1-61227-XXX-X - US$9.95