Hexagon #2: War of the Immortals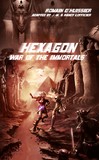 HEXAGON #2: WAR OF THE IMMORTALS
novel by Romain d'Huissier
translated by Jean-Marc & Randy Lofficier
cover by Amar Djouad.
Black Lys. Plasma. Rakar. The Mysterious Archer. The Dark Flyer. Together, they form the Hexagon Group, the most powerful superhero team in the world!

Since Blackie Sullivan's recruitment, Hexagon is more powerful than ever! With the help of a new member, Ben Leonard, a.k.a. Ra, the reincarnation of the mythical Egyptian god, the team has yet to face an attack that can challenge it -- yet, it comes in the shapwe of an alien invasion, the first step in a diabolical plan designed to plunge the world into chaos.

Will Hexagon be up to this new challenge? Who is their mysterious enemy who hides behind a golden mask? And above all, what secrets does Ra hide which may lead to THE WAR OF THE IMMORTALS!