Tales of the HexagonVerse #1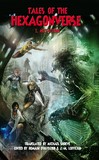 TALES OF THE HEXAGONVERSE #1: MUTATIONS
short story collection translated by Michael Shreve; edited by Romain d'Huissier & Jean-Marc Lofficier.
Stories by Cédric Burgaud, Nelly Chadour, Fabien Clavel, Tepthida Hay, Julien Heylbroeck, Romain d'Huissier, Jean-Marc Lainé, Jean-Marc & Randy Lofficier, Ghislain Morel, Alex Nikolavitch, Yohan Odivart, Frank Schildiner and Krystoff Valla.
cover by Amar Djouad.

US$ 20.95 /GBP 16.99
5x8 tpb, 244 pages
ISBN-13: 978-1-61227-921-3
Contents:
Introduction by Romain d'Huissier
Cedric Burgaud: Mutations (starring The Bronze Gladiator)
Nelly Chadour: A Fairy's Night Dream (starring Morgane)
Fabien Clavel: Who Will Take Care of Rita Tower? (starring Homicron)
Tepthida Hay: The Cult of the Nautilus (starring The Five-Pointed Star)
Julien Heylbroeck: A Wedding in Olyazabad (starring Kabur)
Romain d'Huissier: The Incomplete God (starring Jeff Sullivan)
Jean-Marc Lainé: The Waste Land (starring Ozark)
Jean-Marc & Randy Lofficier: Sibilla in Tribeca (starring Sibilla)
Ghislain Morel: C.O.L.M. (starring The Dark Flyer)
Alex Nikolavitch: The Return of Apophis (starring Ben Leonard)
Yohan Odivart: The Man Who Couldn't Die (starring Count Saint-Germain)
Frank Schildiner: The Wanderer's Nightsong (starring Stormshadow)
Krystoff Valla: Every Journey Begins with a Single Step (starring Kit Kappa)
About the Authors.