The Mysteries of Tomorrow (Vol. 1)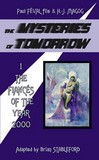 THE MYSTERIES OF TOMORROW (VOLUME 1): THE FIANCES OF THE YEAR 2000
By Paul Féval,
fils
& H.J. Magog
Translated by Brian Stableford
Cover by Mike Hoffman
H.-J. Magog collaborated with Paul Féval,
fils
, on a sprawling, rambling serial entitled Les Mystères de Demain. In it, the genial scientist Oronius fought the diabolical schemes of his evil German counterpart, Hantzen, and his Hindu female mystic, Yogha. Les Mystères de Demain includes all the possible clichés: of the genre such as a secret base on top of Mount Everest, carnoplastic surgery, soul transfers, mud-crawling mountain dwarves, salamander beings living at the Earth's core, germ warfare, the risining of prehistoric Atlantis, etc.
CONTENTS:
Introduction
Les Fiancés de l'an 2000 (Ferenczi, 1922)