The Secret Files of Donald J. Trump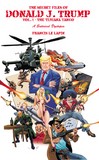 THE SECRET FILES OF DONALD J. TRUMP
VOLUME 1: THE TIJUANA TANGO
A satirical dystopia
by Francis le Lapin
cover by Roberto Castro
US$ 19..95 /GBP 14.99
5x8 tpb, 180 pages
ISBN-13: 978-1-61227-965-7


1968. Donald J. Trump, moonlighting for the Tsar's secret police, is dispatched by his handler to Tijuana to stop a diabolical plan by Republican terrorists to restart a colonial war between the French and Mexican Empires.

Tsar? Empires? This satirical novel, starring the most unlikely secret agent of all, takes places on a dystopian alternate Earth where history diverged from ours in the 1800s and most democracies never arose.

Moving at a brisk pace, this tale of international intrigue and espionage that never was is the first adventure in a new series dedicated to the exploits of the spy who loved himself.

"Francis le Lapin" is the nom-de-plume of a renowned Belgian writer who was once the editor-in-chief of the celebrated newspaper Le Fureteur and is also the author of several French comics and YA novels. This is his first book in English.