New Releases April 2018
Penelope's Secret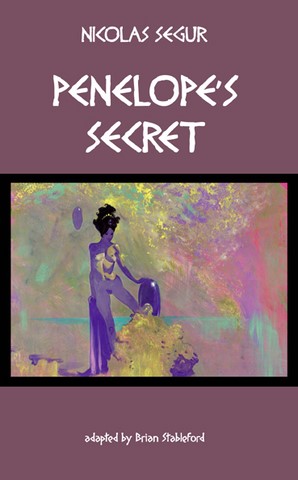 by Nicolas Ségur - adapted by Brian Stableford - cover by Mike Hoffman. READ AN EXCERPT - 264 p. - US$ 20.95
Penelope's Secret (1922) picks up where Homer's Odyssey ends, after the slaying of Penelope's suitors and the discovery that her stubborn virtue was somewhat exaggerated, which causes Ulysses to seek advice from Minerva, Menelaus and his old tutor, the centaur Chiron. Plato in Search of Amour (1926) described the manner in which Plato, emerging from adolescence, feels the pangs of young love and seeks the guidance of Socrates who hands him over to the great courtesan Aspasia. Naïs at the Mirror (1920) features the notorious courtesan whose self-examination includes accounts of her dealings with her lovers, her observations of Athenian mores and the conduct of contemporary philosophers, such as Epicurus.
The Robe of Sincerity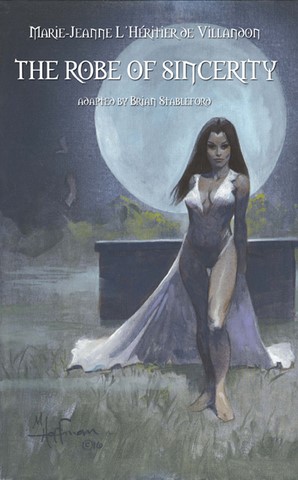 by Marie-Jeanne L'Héritier de Villandon - adapted by Brian Stableford - cover by Mike Hoffman. READ AN EXCERPT - 304 p. - US$ 23.95
Marie-Jeanne L'Héritier de Villandon (1664-1734), a relative of the better-known Charles Perrault, was among the most important creators of the fairy tales genre. This ground-breaking collection gathers four stories originally published in 1696, a year before Perrault's Tales of Mother Goose, the classic The Dark Tower and the Luminous Days published in 1705, as well as an essay written in the form of a letter, in which Mlle L'Héritier casts more light on the detail of her thinking, the process by which the tales came to be written and the various things that she was attempting to achieve. These stories may well be the source material that inspired Cinderella and the Brothers Grimm's Rumpelstiltskin, amongst others, and are not an adaptation of folklore, but an attempt to recycle literary inventions attributed to the medieval troubadours.
The Pool of Mnemosyne
by Brian Stableford. cover by Vincent Biwer. READ AN EXCERPT - 304 p. - US$ 23.95
Brian M. Stableford's latest novel, The Pool of Mnemosyne, concludes the saga of the immortal Axel Rathenius, from the artists' colony of Mnemosyne, an island located off the northern coast of what in our world is called France, in the Everlasting Empire, 2,000 years after the birth of the Divine Caesar. Rathenius now returns to Mnemosyne after his meeting with the legendary Madame Minerva only to be confronted by a new conspiracy which threatens to annihilate his beloved island. Brian M. Stableford has been a professional writer since 1965. He has published more than 80 science fiction and fantasy novels, as well as several authoritative non-fiction books. He has also been translating the works of numerous authors of French mysteries, scientific romance and fantasy for Black Coat Press, which has previously published his four Mnemosyne novels.


Latest e-books
(March 2018)