New Releases July 2019
William's Angel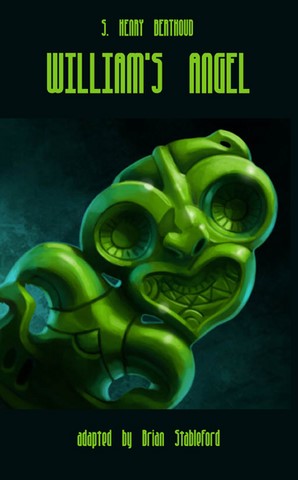 by S. Henry Berthoud - adapted by Brian Stableford - cover by Aurélien Hubert.
READ AN EXCERPT
- 252 p. - US$ 21.95
William's Angel (1838) is based on the story of William FitzOsbert, who led a popular uprising by the citizens of London in the spring of 1196, and was executed. S. Henry Berthoud goes on to weave a semi-mythical retelling of this incident, that includes the characters of Robin Hood and Richard the Lionheart. This book also includes a collection of ten other stories illustrating how Berthoud became an important pioneer of the conte cruel, and one of the first writers to experiment with that would later be called "stream-of-consciousness" narration. The love of reckless fantasy that was evident in many of his early works is still evident in these conspicuously Gothic horror stories.
The Sacred Fire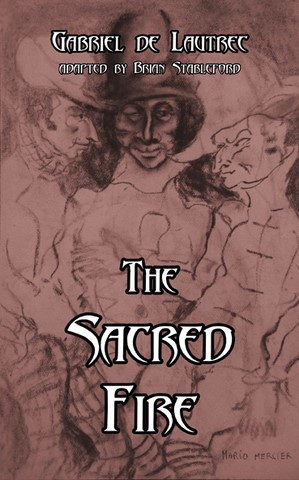 by Gabriel de Lautrec - adapted by Brian Stableford - cover by Mario Mercier. READ AN EXCERPT - 212 p. - US$ 20.95


The present volume contains De Lautrec's short novel The Sacred Fire (1904), and a selection from short prose poems (1898). The latter benefit from being juxtaposed with the former because one of the episodes of the novel reveals the circumstances in which they were composed, with not only explains their surreal nature but allows them to serve as an illustration of the argument made in that episode. The Sacred Fire opens with a description of a secret ritual practiced by one of the cults of the French Occult Revival, and much of the discussion featured in the story deals with the nature and philosophy of magic. Despite its ground-breaking nature, it never achieved publication in volume form until now. The prose poems are among the most important precursors of surrealism, contemporary with the most significant contributions that Alfred Jarry made to the preliminary foundations of that movement. They are among the most extreme examples of the Decadent Movement, and together with the short novel a fascinating commentary on its psychology and esthetics.
The Lunatic Legion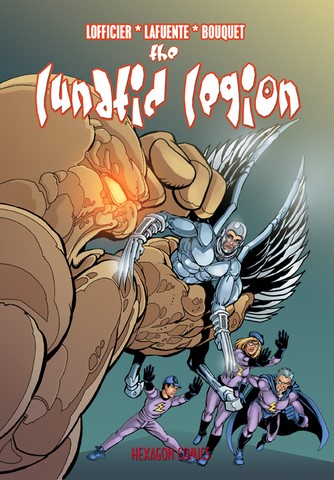 HEXAGON COMICS USA RELEASE by J.-M. Lofficier, Cyril Bouquet & David Lafuente - cover by Juan Roncagliolo - 52 p. black & white - US$10.95
In the tradition of HOWARD THE DUCK and THE INFERIOR FIVE, meet the oddest superheroes ever – Baron Sarcasm, a Scrooge-like, wealthy, cantankerous elderly man living in a castle somewhere in the French countryside; his niece, the pretty, spunky Mademoiselle Mademoiselle, also a brilliant inventor, her teenage son Gizmo, and their cousin, a gentle giant nicknamed Captain Camembert. Together, they built a rocket in their backyard shed in 1954, went exploring into outer space, and returned today, having barely aged a day, now transformed into… The Lunatic Legion! But are they the same astronauts who left half a century ago?

Discover the origins of the Lunatic Legion, previously introduced in Phenix #1, and its first adventures with two stories by writer Jean-Marc Lofficier, French artist Cyril Bouquet, and Spanish artist David Lafuente, known for his work on Ultimate Comics: Spider-Man and The Adventures of Archer & Armstrong.

PROMOTIONAL OFFER
Buy 5 books (or more) and receive a sixth book entirely free (free book of cover price of US$25 or less only) + freight paid (within US only). Write to us with the list of titles you wish to purchase and we'll email you a paypal invoice.
Latest e-books
(April 2019)
Available in EPUB or PDF formats. Please specify when ordering.