New Releases July 2018
The Iron Man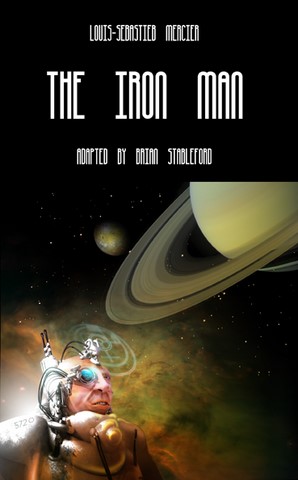 by Louis-Sébastien Mercier - adapted by Brian Stableford - cover by Phil Cohen. READ AN EXCERPT - 256 p. - US$ 20.95
The Iron Man is a fascinating cross-section of the works of Louis-Sébastien Mercier (1740-1814), a unique writer whose originality and enterprise has never yet been given the full credit that it deserves. From an early contribution to the development of the literary vampire to a pair of revealing philosophical spectacles, from a world that seems to be the best of all possible worlds to interplanetary voyages, and the eponymous "Iron Man," a precursor of superhero fiction, many of Mercier's visionary fantasies are still fresh and original today, his exploratory zest not having been weighed down by the burden of subsequent sophistication.…
The Land of Delights
by Charlotte-Rose Caumont de La Force - adapted by Brian Stableford - cover by Mike Hoffman. READ AN EXCERPT - 180 p. - US$ 18.95
The Land of Delights was originally printed in Paris in two volumes in July 1697, and reissued in 1707, attributed to Charlotte-Rose Caumont de La Force (1650-1724). Of all the pioneering writers of contes de fées, La Force is perhaps the one who took the greatest imaginative license from the freedom to make arbitrary inventions and narrative moves. Her tales tell a story that is very different from the historical fantasies built on Perrault's moralistic tales for children. By far the most famous of her tales is "Persinette" which was plagiarized by Friedrich Schultz, who retitled it "Rapunzel" (1790), and it was subsequently collected under that title by the Brothers Grimm. That version became the basis for the Disney film Tangled (2010).
The Secret Bureau 4: The Marquis de Lupiano
by Charles Rabou - adapted by Nina Cooper - cover by anonymous. READ AN EXCERPT - 532 p. - US$ 39.95
The Marquis de Lupiano (1858) is the fourth and final volume in a sprawling saga that tells the story of the secret government's spy network, the Secret Bureau, that intercepts and opens all private mail. In this tome, we finally discover the hidden origins of the mercurial Marquis de Lupiano and his connection to the accursed Hulet family. The secret master of the various conspiracies, such as the Sleepers' Club, the Brothers of Death and the Red Brotherhood, now plots to change the course of history by freeing Napoleon from Saint-Helena. We also learn of the final fate of Gregorio Matiphous, the cunning Maltese who fell in love with Georgiana, the so-called "bloodied girl." We see how the web of fate that has trapped the Hulets for generations collides with the bandit Rempailleux, who is now the head of the Secret Bureau.


Latest e-books
(March 2018)