Tales of the Shadowmen 3: Danse Macabre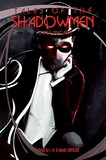 TALES OF THE SHADOWMEN3: DANSE MACABRE
edited by J-M. & R. Lofficier
cover by Daylon

Contents:
Matthew Baugh: The Heart of the Moon starring Telzey Amberdon, Captain Kronos, Solomon Kane, Maciste, Dr. Omega, the Vampire City.
Alfredo Castelli: Long Live Fantômas! starring Fantômas, the Black Coats.
Bill Cunningham: Next! starring Barbarella, Captain Kirk.
François Darnaudet & J.-M. Lofficier: Au Vent Mauvais... starring Madame Atomos.
Paul Di Filippo: Return to the 20th Century starring Robida's 20th Century, Cat-Women of the Moon.
Win Scott Eckert: Les Lèvres Rouges starring Doc Ardan, Elisabeth Bathory, Nestor Burma, Jens Rolf, SNIF.
Micah Harris: The Ape Gigans starring Becky Sharp, Professor Lindenbrock, King Kong and the Mahars of Pellucidar.
Greg Gick: Beware the Beasts starring Dr. Omega, the Planet of the Apes.
Travis Hiltz: A Dance of Night and Death starring Fantômas, Irma Vep.
Rick Lai: The Lady in the Black Gloves starring Josephine Balsamo, the Black Coats, Mabuse.
Jean-Marc Lofficier: The Murder of Randolph Carter starring Hercule Poirot, Malpertuis, Charles Dexter Ward.
Xavier Mauméjean: A Day in the Life of Mrs. Atomos starring Madame Atomos, Sumuru, Madame Hydra, Modesty Blaise.
David A. McIntee: Bullets Over Bombay starring Dr. Mystère.
Brad Mengel: All's Fair... starring James Bond, L'Ombre, OSS 117, P'Gell.
Michael Moorcock: The Affair of the Bassin Les Hivers starring Lapointe, Una Persson, Vautrin, Irma Vep, Zenith the Albino.
John Peel: The Successful Failure starring Isidore Beautrelet, Biggles.
Joseph Altairac & Jean-Luc Rivera: The Butterfly Files starring Madame Atomos, William Mulder.
Chris Roberson: The Famous Ape starring Zephir, Curious George.
Robert L. Robinson, Jr.: Two Hunters starring Judex, Tarzan.
Brian Stableford: The Child-Stealers (second part of The Empire Of The Necromancers) starring Cagliostro, John Devil, Gregory Temple.

illustrations by: Fernando Calvi, Cybele Collins, Daylon, Gil Formosa, M. Gourdon, Jean-Michel Ponzio, Rapeno, Albert Robida and Will.

Welcome once again to our annual merry-go-round of heroes and villains of popular literature, the danse macabre of of the Shadowmen.

Fantômas is dead, long live Fantômas! Captain Kronos and Doctor Omega challenge the might of the Vampire City! The Animalists overthrow Babar, King of the Elephants! King Kong journeys to the Center of the Earth! Hercule Poirot stalks a Murderer from Beyond! The Sûreté du Temps Perdu faces the Vampires and the Cat-Women of the Moon invade the 20th Century--but which 20th Century? Also Tarzan, Fu-Manchu, Judex, Maciste, the Black Coats, Biggles, James Bond, Modesty Blaise, Madame Atomos, John Devil, Barbarella, Solomon Kane, Curious George, and many more!

This anthology of all-new stories, featuring Heroes and Villains from Pulp Literature, edited by JM & Randy Lofficier, combines the talents of renowned authors such as Michael Moorcock (Jerry Cornelius), John Peel (Doctor Who, Star Trek), Brian Stableford (Inherit the Earth , Architects of Emortality), Chris Roberson, Paul Di Filippo, Xavier Mauméjean, David McIntee, Alfredo Castelli, with a new generation of gifted storytellers such as Matthew Baugh, Win Eckert, G.L. Gick, and Micah Harris.