New Releases April 2021
Fays of the Sea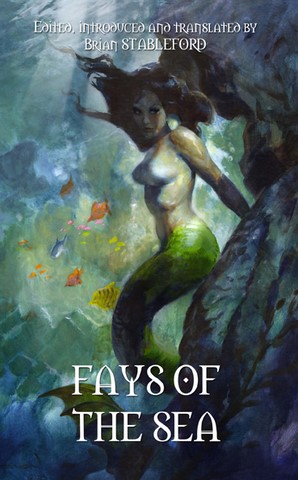 Edited, Introduced & Translated by Brian Stableford -
read a chapter
- cover by Mike Hoffman - 264 p. - US$20.95.

The 20 stories collected in the present volume, all written during the 19th century, may not be real contes de fées, in the sense of the classic works of the Comtesse de Murat and Madame d'Aulnoy, but they do retain conscious echoes of the originals, and despite the interference in the genre's subsequent history, they maintain residues of the same spirit as well as fragments of imagery. Some writers developed the more broadly comic aspect of the genre; others created "authentic" folkloristic materials in a semi-reverent manner, while maintaining a certain contemporary relevance. Finally, a few managed to take the reborn genre of contes de fées to new extreme of symbolist fantasies in the pages of newspapers.


Guardian of the Republic / Doctor Omega
story by Jean-Marc Lofficier; art & cover Manuel Martin Peniche - 48 p. b&w - US$9.95.
Berlin, April 1945... Amidst the ashes of the Nazi defeat, a quartet of mad scientists decides to continue the experiment of the Third Reich by creating a futuristic version of Nazi Germany, which they christen—Metropolis! The Guardian of the Republic and Marianne, on leave from the Partisans, managed to infiltrate Metropolis at the time of its creation, but become its prisoners while it now threatens to invade and conquer other dimensions...

The mysterious space-time traveler known only as Doctor Omega joins forces with the modern-day Guardian to destroy Metropolis, but what will happen when these two Guardians from different eras clash... What if one of them was to commit the ultimate sacrifice?
Spring Promotion

40% OFF IF YOU BUY FIVE BOOKS OR MORE -- ANY BOOKS! (EXCEPT EBOOKS OR ARTBOOKS). USPS FREIGHT FREE (but no guarantees). UPS FREIGHT $10. E-mail me the title(s) and I'll send you a paypal invoice, or order as usual from our site, and I will refund you the excess money.
New e-books
(December 2020)
Available in
EPUB
or
PDF
formats. Please specify which when ordering.