New Releases: September 2023
Mortefontaine (Books of Anguish 2)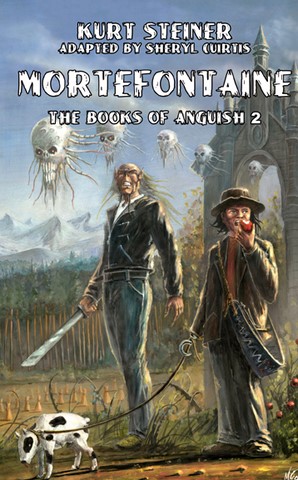 Two novels by Kurt Steiner adapted by Sheryl Curtis. cover by Mariusz Gandzel. read a chapter
. 256
p. US$20.95.
MORTEFONTAINE: In a mist-shrouded, lonely castle, Michel falls in love with Cécile, a beautiful woman who seems to belong to another world...
THE THRESHOLD OF THE VOID: Wanda, a young artist who's just arrived in Paris, finds an apartment to rent at an unbeatable price, but with strange triangle-shaped room that conceals a terrible secret... ADAPTED INTO A MOTION PICTURE.

"Kurt Steiner" is the pseudonym of André Ruellan (1922-2016), one of France's best-known science fiction and horror writers, as well as one of its most distinguished screen-writers. The Books of Anguish collect Ruellan's classic horror novels written in the 1950s and 1960s for French publisher Fleuve Noir.
Guardian of the Republic: Birth of a Legend
story by Thierry Mornet; art by Nathan Legendre & B. Blasco-Martinez; colors by Bryan Wetstein; adapted by J.-M. & R. Lofficier. cover by Mike Mignola. 56 p. color - US$19.95.
For countless generations, the Guardian of the Republic has been the ultimate rampart against evil, always defending the weak and the oppressed, always fighting when France and its people are threatened, and forever holding true to the eternal values of the French Republic: liberty, equality, fraternity and solidarity. Throughout the centuries, many brave heroes have worn that proud uniform. Now discover the history of the first Guardian, forged in the fire and fury of the American Revolution, and that of his successor, struggling during the bloody Reign of Terror and the epic years of Napoleon's reign.
Thierry Mornet, and artists Nathaniel Legendre and Benjamin Blasco-Martinez have teamed up to bring you the birth of a legend.
Hexagon Spotlight on José Luis Ruiz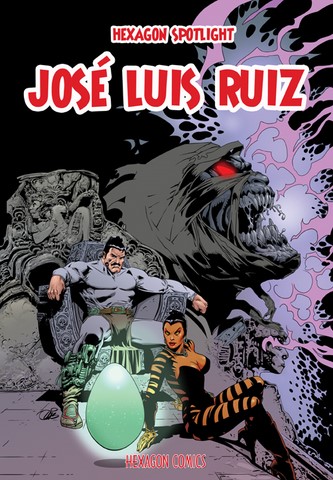 The Fantastic Art of José Luis Ruiz. 48 p. color - US$12.95.
José Luis Ruiz Pérez was a tremendously gifted artist and it is my greatest honor to have been able to work with him for these past eight years. It was Manuel Martín Peniche who introduced him to me, and I will be eternally grateful to him for that. Not only was his work superb, reminiscent of the great American artists of the 1960s, such as Dick Giordano or Carmine Infantino, but he was also a very kind and friendly man, judging from our correspondence.He will be greatly missed, not only by us here at Hexagon, but by many, many devoted fans of his.
Special Promotion

40% OFF IF YOU BUY FIVE BOOKS OR MORE -- ANY BOOKS! (EXCEPT EBOOKS OR ARTBOOKS). USPS FREIGHT FREE (but no guarantees). UPS FREIGHT $10. E-mail me the title(s) and I'll send you a paypal invoice, or order as usual from our site, and I will refund you the excess money.
New e-books
(July 2023)
Available in
EPUB
or
PDF
formats. Please specify which format when ordering.