New Releases June 2020
The Mysteries of Tomorrow (Volume 4)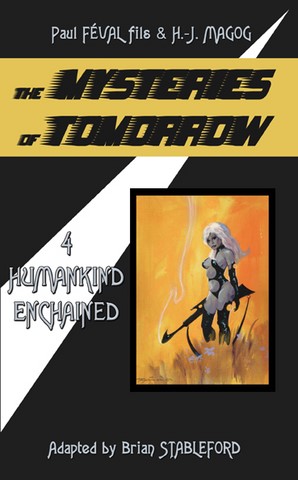 by Paul Féval fils & H.-J. Magog - adapted by Brian Stableford - cover by Mike Hoffman.
READ AN EXCERPT
- 232 p. - US$20.95

Written in collaboration in 1922 by the author of Felifax, this five-volume saga (of which this is the second), purporting to chronicle the early years of the 21st century, takes place in a quasi-utopia-like Earth, where, thanks to the genius of master scientist Oronius, humanity has mastered natural forces. However, Oronius' former colleague Otto Hantzen, a mad scientist who has allied himself with the beautiful, deadly Princess Yogha. In this volume, after the worldwide cataclysm that devastated the Earth, Oronius and his friends discover an advanced civilization of giant insects long buried in Antarctica. The Polars, aided by Hantzen and Yogha, launch an attack against Humanity, increasing the intelligence of animals, who then rebel and enslave mankind, turning the world into a "Planet of the Beasts." Oronius eventually escape from his enemies and enlists the help of the United States to fight the giant insects...
The Land of Everlasting Gloom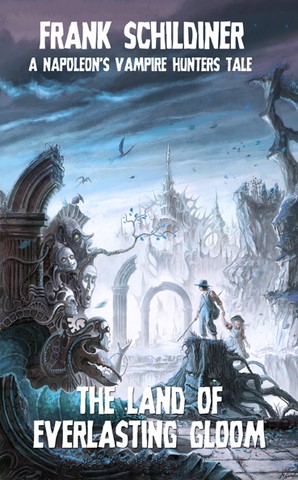 by Frank Schildiner - cover by Mariusz Gandzel - READ AN EXCERPT - 322 p. - US$24.95
Paris 1806: The terrible Ange and Jean Tenebre are back in Paris, on a rampage of blood and terror through the streets of Napoleonic France. The undead brothers, ghoul and vampire, are following the commands of Strix, a Satanic witch whose evil actions nearly brought down the Sun King, Louis XIV, decades earlier. Pitted against these ancient monsters are swordmaster and vampire hunter, Jean-Pierre Séverin, the Exorcist Baron Franz Karnstein, the lovely swordswoman Sylvia Dardi, and a Thugee priestess from India, who has her own, secret agenda. Together, they must stop Strix and the Tenebre Brothers before they can reach the unfathomable, terrifying land known as Selene, the Vampire City....
Gun Gallon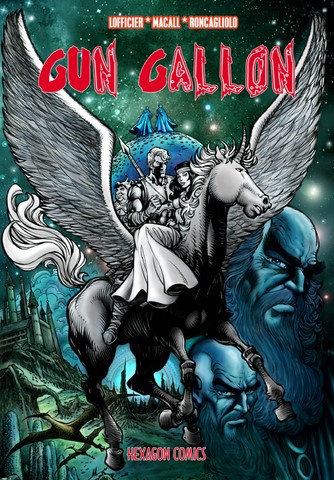 A HEXAGON COMICS STORY - written by Jean-Marc Lofficier based on the character created by Lina Buffolente - art and cover by Alfredo Macall - 48 p. b&w - US$9.95
Gun Gallon was created in 1968 by the legendary Italian artist Lina Buffolente.
In the early 2000s Gun Gallon returned as part of the Hexagon group of heroes and, since then, has guest-starred in a recent series of Strangers.
Gun Gallon is a pure fantasy hero in the mold created by Edgar Rice Burroughs. The recap episode presented here, drawn by famed Mexican artist Alfredo Macall, was designed to reintroduce the character to a new audience, as well as retell his origins... By what miracle did he become the Champion of the world of Orios? What mysterious power drew him to this planet with two suns and three moons? And why? All these answers and more in this book, recounting the legend of Gun Gallon...
June Promotion

40% OFF IF YOU BUY FIVE BOOKS OR MORE -- ANY BOOKS! (EXCEPT EBOOKS OR ARTBOOKS). USPS FREIGHT FREE (but no guarantees). UPS FREIGHT $10. E-mail me the title(s) and I'll send you a paypal invoice, or order as usual from our site, and I will refund you the excess money.
New e-books
(June 2020)
Available in
EPUB
or
PDF
formats. Please specify which when ordering.