New Releases August 2021
Midnight!!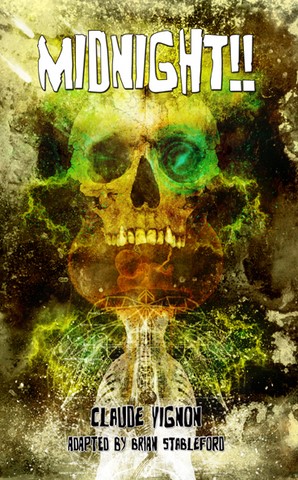 short story collection by Claude Vignon - translated by Brian Stableford - cover by Aurelien Maccarelli -
excerpt
- 272 p. - US$22.95.

Claude Vignon was the nom-de-plume of sculptor Marie-Noémi Cadiot (1828-1888), once briefly married to Éliphas Lévi. Midnight!! was first published in 1856. The six stories contained therein are the work of an intelligent, well-informed and thoughtful author, and are remarkable in mapping out an evolutionary spectrum of Gothic and post-Gothic fantasies that exemplifies certain key phases within the evolution of Romantic fantasy. Two are set in Germany, one in the Middle Ages and one in the sixteenth century, and are described as "legends," The others is pure Gothic melodrama, deliberately brutal in their supernatural improvisations and their deployment in unusually stark moral fantasies. There are few examples in French Romantic fiction that are as forthright as Midnight!!


Starpuck
stories by Jean-Marc Lofficier; art by Edouardo Garcia & Gabriel Mayorga; cover by Stan Sakai. 48 p. b&w- US$9.95.
Meet Starpuck, the courageous canine member of the Galactic Guardians of the Towers, the same cosmic corps to which belong Starlock and Starcyb of Strangers fame. Learn of the secret origins of this dogged defender when he was only Inspector Pucktoon of the D.O.O.G. Patrol on the far off planet Bone Zone… See Starpuck team up with Jaleb the Telepath to defeat a monstrous space vampire, and with Marianne, the Guardian of the Republic's sidekick, to challenge the dastardly menace of Dr. Morbyde!
Summer Promotion

40% OFF IF YOU BUY FIVE BOOKS OR MORE -- ANY BOOKS! (EXCEPT EBOOKS OR ARTBOOKS). USPS FREIGHT FREE (but no guarantees). UPS FREIGHT $10. E-mail me the title(s) and I'll send you a paypal invoice, or order as usual from our site, and I will refund you the excess money.
New e-books
(July 2021)
Available in
EPUB
or
PDF
formats. Please specify which when ordering.