New Releases: May 2023
The Handbook of French Fantastic Radio & Television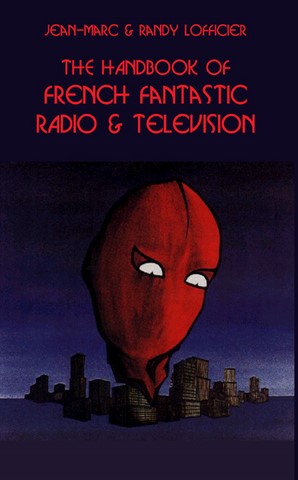 by Jean-Marc & Randy Lofficier. cover by Anonymous.
296
p. US$22.95.
STARLOG (David McDONNELL) "There is simply, no book like this one. Highly recommended." VIDEO WATCHDOG (Tim LUCAS) "...the instant I saw it, I knew that it was going to fill a major void in my library. I've just spent the last hour perusing it with admiration... It's an awe-inspiring survey of the history of French fantastique in all its forms... I've been saying for years, even though the French were responsible for starting it all, that there really has been no French tradition of the fantastic, but the completeness of this book is going to make me eat my words." UTOPIAN STUDIES (George SLUSSER) "I can say, honestly, that I stand in awe of the labor and erudition that went into this book. It is in the same league as the Clute/Nicholls Encyclopedia, and all the more astonishing in the fact that it is the work of two people, not of multiple hands. It is an invaluable tool for any future research in this fascinating area of French culture... I salute the energy, intelligence and effort that went into producing this work, and can only wish more scholars would follow this example."
Guardian of the Repblic Underground issue
story by Jean-Marc Lofficier; art & cover by Jim Dandy, Mike Espinoza. 56 p. b&w - US$9.95.
GUARDIAN OF THE REPUBLIC / LUNATIC LEGION: THE COFFEE MAKER THAT TERRORIZES FRANCE! The new MOOKS GANG poses a terrifying threat to the French Republic. Only the LUNATIC LEGION is capable of stopping them and the fearless GUARDIAN is enlisted to lend them a hand! GUARDIAN OF THE REPUBLIC / CAPTAIN GIROFLÉE: LOBSTER'S ROLL! The GUARDIAN joins forces with CAPTAIN GIROFLÉE to defeat the megalomaniac BOIL and his creature, the RED LOBSTER, who are sinking English trawlers in the English Channel. Both stories are satirical in style, although firmly entrenched in the regular continuity. They also include a variety of potshots taken at French celebrities and political figures, and show the diversity of styles and inspirations featured in Hexagon Comics.
Special Promotion

40% OFF IF YOU BUY FIVE BOOKS OR MORE -- ANY BOOKS! (EXCEPT EBOOKS OR ARTBOOKS). USPS FREIGHT FREE (but no guarantees). UPS FREIGHT $10. E-mail me the title(s) and I'll send you a paypal invoice, or order as usual from our site, and I will refund you the excess money.
New e-books
(January 2023)
Available in
EPUB
or
PDF
formats. Please specify which format when ordering.