New Releases September 2021
Harry Dickson vs. Mysteras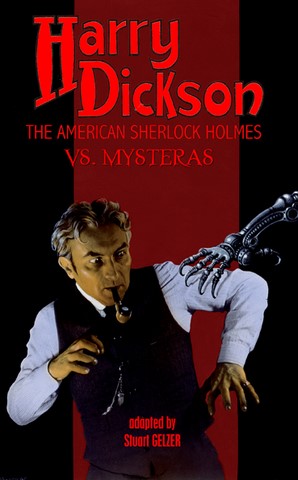 from the Secret Files of the King of Detectives translated by Stuart Gelzer - cover by J.-M. Nicollet -
excerpt
- 244 p. - US$02.95.

When inhuman monsters walk the Earth, Justice has no stronger defenders than Harry Dickson and his assistant Tom Wills, who fight the forces of evil and cast them back into the Darkness from whence they came. Harry Dickson began as an unauthorized Sherlock Holmes pulp series in Germany in 1907, before changing its name and morphing into a hugely popular saga in Holland, Belgium and France, with 178 issues published between 1927 and 1938, especially after it was entrusted to the editorship of Belgian horrormeister Jean Ray. This volume includes four original episodes: Mysteras, in which Dickson meets his match in a villain who relies on elaborate and deadly illusions; The Tribunal of Terror, in which the dreaded Mysteras returns, vowing vengeance against Dickson; The Path of the Gods, in which Dickson faces a blood-thirsty Chinese ghost; and The Devil's Bed, in which Dickson discovers the last living ancient Babylonian priests -- plus a bonus short story, Harry's Homecoming.


The Top 100 Heroes from the Hexagon Universe
by Romain d'Huissier; cover by Alfredo Macall. 256 p. b&w- US$22.95.
From the first appearance of Zembla in 1963, to the recent successes of Strangers and Guardian of the Republic, the 70 year-old Hexagon Comics Universe demonstrates a true French passion for comics. But with so many characters, many of whom were created decades ago, where should a new reader start? How are they to disentangle the best from the anecdotal, the masterpiece from the ordinary? To give someone just coming to the Hexagon Universe a leg up, popular French author and game designer Romain d'Huissier has selected his 100 favorite characters, then takes us on a journey of discovery (or rediscovery) through a very special universe; one not limited to superheroes, but which also offers thrillers, fantasy, science fiction, westerns and swashbuckling sagas. Newcomers will learn the origins and history of the major heroes. Connoisseurs will find new details about obscure and never translated characters in these treasures of French popular comics.
Fall Promotion

40% OFF IF YOU BUY FIVE BOOKS OR MORE -- ANY BOOKS! (EXCEPT EBOOKS OR ARTBOOKS). USPS FREIGHT FREE (but no guarantees). UPS FREIGHT $10. E-mail me the title(s) and I'll send you a paypal invoice, or order as usual from our site, and I will refund you the excess money.
New e-books
(July 2021)
Available in
EPUB
or
PDF
formats. Please specify which when ordering.