New Releases July 2020
The Mysteries of Tomorrow (Volume 5)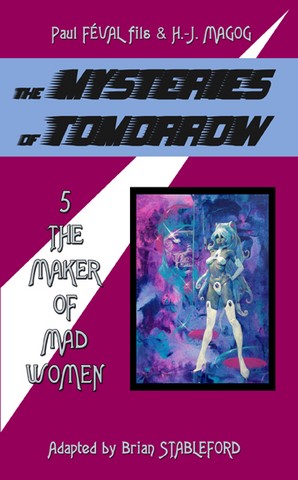 by Paul Féval fils & H.-J. Magog - adapted by Brian Stableford - cover by Mike Hoffman.
READ AN EXCERPT
- 232 p. - US$20.95

Written in collaboration in 1922 by the author of Felifax, this five-volume saga (of which this is the second), purporting to chronicle the early years of the 21st century, takes place in a quasi-utopia-like Earth, where, thanks to the genius of master scientist Oronius, humanity has mastered natural forces. However, Oronius' former colleague Otto Hantzen, a mad scientist who has allied himself with the beautiful, deadly Princess Yogha. This time, the diabolical Hantzen, who has insidiously taken over another country under the alias of Professor Astaroth, Satan's Rival, plots to unleash a pandemic of madness on the women of the world. It is up to Oronius' faithful and resourceful servants, mechanic Victor Laridon, chambermaid Turlurette, and jack of all trades Julep, to thwart the demoniacal scientist….
Doc Ardan: The Fall of Inramonda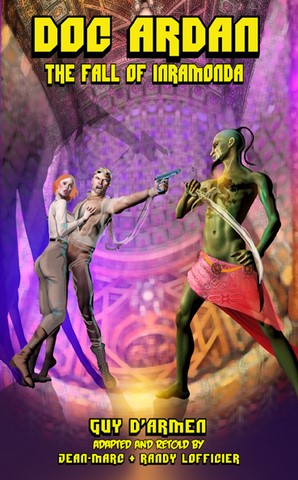 by Guy d'Armen - adapted & retold by Jean-Marc & Randy Lofficier - cover by Phil Cohen - READ AN EXCERPT - 244 p. - US$20.95
In the summer of 1921, young doctor Francis Ardan and his father are exploring the most remote regions of Upper Siam (now Thailand), when they encounter a dying man whose skin is the color of jade. His revelations lead the intrepid father-and-son team to discover the existence of Inramonda, a secret, underground realm ruled by an immortal tyrant known as His Eternal Wisdom, whose subjects are a race of artificially created "Jade Men." He plots to seize power in Southeast Asia.'Scientist and world-saving explorer Doctor Ardan was created in 1928, five years before Doc Savage, by French author Guy d'Armen. The Fall of Inramonda, originally published in 1935, has been adapted by the award-winning team of Jean-Marc & Randy Lofficier.
Strangers 04: The Coming of Starcyb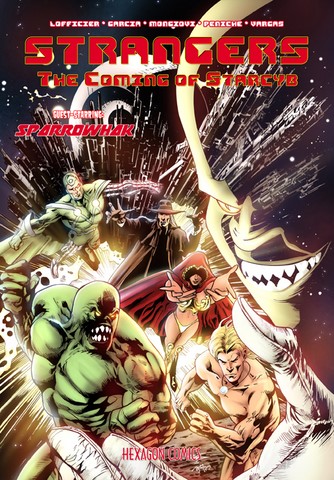 A HEXAGON COMICS STORY - written by Jean-Marc Lofficier - art by Manuel Martin Peniche, Nestor Vargas, Eduardo Garcia & Jorge Mongiovi - cover by Manuel Martin Peniche - 118 p. b&w - US$12.95
In this fourth volume of Strangers, the quest for Kera, the ancient weapon of the Twilight People, begins... we will examine crucial moments in the lives of our heroes, heralding major events on the horizon... You will see the return of Dick Demon and finally discover the origins of the Towers and the Twilight People. You will rediscover two old acquaintances: the Bronze Gladiator, prince of Arena in exile on Earth, already seen in Strangers #0, and the Zorr-Ko, a powerful Fomor android seen in Strangers #3. A newcomer is the Sparrowhawk, none other than the descendant of Don Juan Ortaga y Perez whose adventures were told in The Frontiersmen.
Virus Alert!
Our digital printer Lightning Source has just advised us that, because of the corona virus, their usual turnaround time which is/was normally 4-5 days to print & ship a book is now... 22 days! (The same would apply to orders made through amazon.) Needless to say I have no control over this, and I am really sorry.
July Promotion

40% OFF IF YOU BUY FIVE BOOKS OR MORE -- ANY BOOKS! (EXCEPT EBOOKS OR ARTBOOKS). USPS FREIGHT FREE (but no guarantees). UPS FREIGHT $10. E-mail me the title(s) and I'll send you a paypal invoice, or order as usual from our site, and I will refund you the excess money.
New e-books
(June 2020)
Available in
EPUB
or
PDF
formats. Please specify which when ordering.