New Releases May 2021
Magical Tales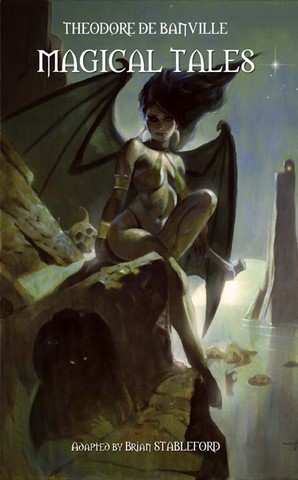 by Theodore de Banville - adapted by Brian Stableford -
read a chapter
- cover by Mike Hoffman - 428 p. - US$34.95.

The fifty stories by Théodore de Banville (1823-1891) making up this volume were originally published in the daily newspaper Gil Blas between November 1880 and October 1881. They represented a reinvention of the subgenre of the contes de fées, although they were substantially different from the classic works of Madame d'Aulnoy, Comtesse de Murat, etc. The tone of the stories covered a wide spectrum, ranging from farce to horror and wry moralistic tales, occasionally featuring demons, figures from Classical mythology, vampires, witches and even the Wandering Jew.



Strangers 6: Against the Overbrain
story by Jean-Marc Lofficier; art & cover Christophe Ouvrard - 94 p. b&w - US$12.95.
JAYDEE, FUTURA, XANI-RHU, THE BRONZE GLADIATOR, THE STAR KNIGHT, together at last... In this sixth volume of Strangers, the mission of our heroes is to travel to the deadly prison planet of Vo'tun to rescue their fellow Stranger Jaleb and crush the evil Overbrain and his schemes of galactic conquest....
Spring Promotion

40% OFF IF YOU BUY FIVE BOOKS OR MORE -- ANY BOOKS! (EXCEPT EBOOKS OR ARTBOOKS). USPS FREIGHT FREE (but no guarantees). UPS FREIGHT $10. E-mail me the title(s) and I'll send you a paypal invoice, or order as usual from our site, and I will refund you the excess money.
New e-books
(December 2020)
Available in
EPUB
or
PDF
formats. Please specify which when ordering.