New Releases January 2022
Miss Musketeer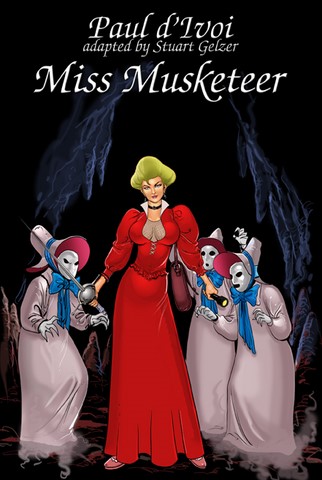 by Paul d'Ivoi - translated by Stuart Gelzer - cover by Roberto Castro -
read a chapter
- 320 p. - US$24.95.

Between 1894 and 1914, Paul d'Ivoi (1856-1915) wrote a series of 21 volumes, collectively entitled The Eccentric Voyages, clearly inspired by and updating Jules Verne's classic Extraordinary Voyages. Miss Musketeer (1907) is the concluding chapter of a trilogy dealing with the revolt of Asia and the attempts by a powerful pan-Asiatic secret society, the Amber Masks, to throw off the yoke of the Western colonizers. Armed with a variety of advanced weaponry, the Amber Masks are only opposed by a motley band of fearless heroes: the intrepid Turkic adventurer Dodekhan, master of a rival secret society, that of the Blue Flag, the French popular writer Max Soleil, and, most of all, Max's girlfriend, the young, indomitable British millionairess, Miss Violet Musketeer!


Strangers 07: The Return of Homicron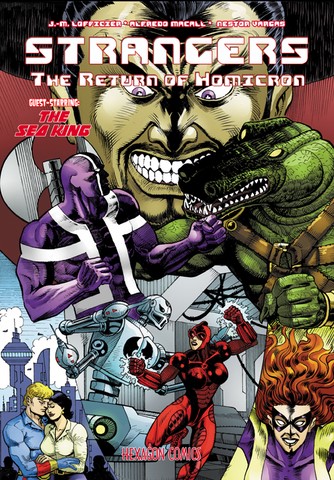 story by Jean-Marc Lofficier; art by Alfredo Macall & Nestor Vargas; cover by Nestor Vargas. 94 p. b&w- US$12.95.
ITHE SEA KING, a young naval officer who gained the power to breathe underwater thanks to his uncle's experiments... MARINO and EGA, two "kidz" from the alien sunken city of Kosmos with their own strange aquatic powers... MISS METEOR, a scientist who traveled to the negative dimension of Zhud where she gained cosmic powers in a freak accident... THE ZORR-KO, a powerful android built millions of years ago by the mighty Fomore civilization and abandoned on Earth... These characters, all "strangers," have been brought together by TANKA, a former jungle lord recruited by entities from our planet's farthest future and now empowered to protect our world from extra-terrestrial menaces.
In this seventh volume of Strangers, the mission of our heroes is to travel to the Kosmos to reclaim the water component of the powerful Kera weapon, and to Zhud to rescue their fellow Stranger Homicron, while thwarting the evil schemes of two would-be conquerors....
Around the World on Five Sous
by Paul d'Ivoi - translated by Brian Stableford - cover by Nathalie Lial -
read a chapter
- 356 p. - US$24.95.
Armand Lavarède is a penniless young journalist who inherits a fortune from a wealthy cousin on the condition that he must first travel around the world in under a year with only five "pennies" in his pocket. If he fails, the money will go his creditor, the rapacious M. Bouvreuil, but during his journey, Lavarède knows he can count on the help of the pretty Miss Aurett, the daughter of Sir Murlyton, in order to to help him successfully gain his inheritance.

Les Cinq sous de Lavarède was a tremendous success, not only as a book--it has been constantly in print since its first publication in 1894--but also in other media; it was filmed three times in 1913, 1927 and 1939, the latter version starring Fernandel and Josette Day.
New Year Promotion

40% OFF IF YOU BUY FIVE BOOKS OR MORE -- ANY BOOKS! (EXCEPT EBOOKS OR ARTBOOKS). USPS FREIGHT FREE (but no guarantees). UPS FREIGHT $10. E-mail me the title(s) and I'll send you a paypal invoice, or order as usual from our site, and I will refund you the excess money.
New e-books
(January 2022)
Available in
EPUB
or
PDF
formats. Please specify which when ordering.