New Releases October 2021
The Madwoman of Melun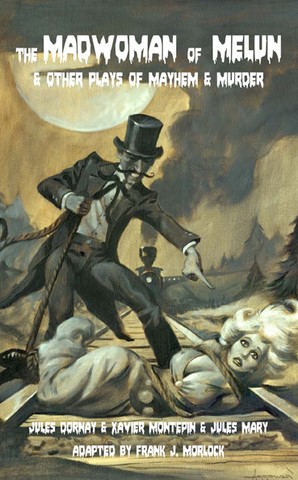 by Jules Dornay, Xavier de Montepin & Jules Mary - adapted by Frank J. Morlock - cover by Mike Hoffman -
excerpt
- 244 p. - US$20.95.

Frank J. Morlock has assembled here three new lurid plays of gruesome murder and deadly mayhem: In THE POLICE AGENT (1889) by Xavier de Montepin & Jules Dornay, a double murder at the notorious Père Lachaise cemetery brings Aimée Joubert, a famous police agent once known as The Cat's Eye, out of retirement. THE MADWOMAN OF MELUN (1891), by the same authors, begins with an innocent man framed for murder being guillotined, driving a woman amongst the spectators to madness. What secret does she know, and who amongst her coterie of wealthy friends, may be the real murderer? Finally, ZIZI (1914), by Jules Mary, is about two brothers, one good, the other evil, who are both in love with the eponymous Zizi, a circus tiger tamer. The evil brother will stop at nothing to possess the object of his desire. Can he be thwarted in time?


Tales of the Hexagonverse
by Jean-Marc Lofficier; art by Gerald Forton, Timothy J. Green II, Kevin O'Neill, Philip Xavier; cover by Kevin O'Neill. 54 p. b&w- US$22.95.
Hexagon Comics isn't merely Wampus, Zembla, Phenix, and the Strangers. For well over sixty years, they published a number of anthology comics in the tradition of DC's Mystery in Space, Strange Adventures, etc., with colorful titles such as Yuma, Nevada, Mustang, Rodeo... In addition to the regular hero-driven series, these books also contained many one-shots: war stories, western adventures, supernatural tales, etc. A few of the characters who first appeared in these eventually returned, but most never went beyond these initial appearances. In this book, we have translated and reprinted five of these one-shots, published between 2000 and 2003. Only two have ever been published in the U.S. before and, as they were all drawn by remarkable artists, we felt that they deserved greater exposure..
Fall Promotion

40% OFF IF YOU BUY FIVE BOOKS OR MORE -- ANY BOOKS! (EXCEPT EBOOKS OR ARTBOOKS). USPS FREIGHT FREE (but no guarantees). UPS FREIGHT $10. E-mail me the title(s) and I'll send you a paypal invoice, or order as usual from our site, and I will refund you the excess money.
New e-books
(July 2021)
Available in
EPUB
or
PDF
formats. Please specify which when ordering.