New Releases: December 2023
The Last Tales of the Shadowmen #20: Fin de Siècle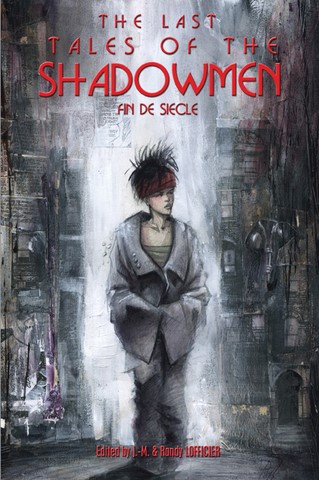 edited by J-M. & R. Lofficier. cover by Raphael Del Rosario, 668 p. US$49.95.
stories by Jason Scott Aiken, Tim Newton Anderson, Jean-Michel Archaimbault, Matthew Baugh, Atom Mudman Bezecny, Thom Brannan, Nathan Cabaniss, Bill Cunningham, Matthew Dennion, Paul Di Filippo, Brian Gallagher, John Gallagher, Martin Gately, Lex Gil, Micah S. Harris, Travis Hiltz, Riley Hogan, Matthew Ilseman, Rick Lai, Roman Leary, Sean Lee Levin, Jean-Marc Lofficier, David McDonald, Rod McFadyen, Nigel Malcolm, Xavier Mauméjean, William Patrick Maynard & Anna Victoria Maynard, Jess Nevins, Christofer Nigro, John Peel, Neil Penswick, Anthony Perconti, Dennis E. Power, Pete Rawlik & Sal Ciano, Josh Reynolds, Chris Roberson, Robert L. Robinson, Jr., Frank Schildiner, Artikel Unbekannt, Nathalie Vidalinc, David L. Vineyard.
essays & reminiscences by Stephen R. Bissette, Win Scott Eckert, Neil Gaiman, Stuart Gelzer, Robin Hobb, Stephen Jones, K.A. Laity, Randy Lofficier, Tim Lucas, Frank J. Morlock, Kim Newman, Sharan Newman, Henry Lion Oldie, David J. Schow, Michael Shreve, John Skipp, Brian Stableford, Antifas de Torquemada, Rob Walton, Lance Weiler, Douglas E. Winter, Thomas Yeates.
Strangers #11: Finally... Zembla!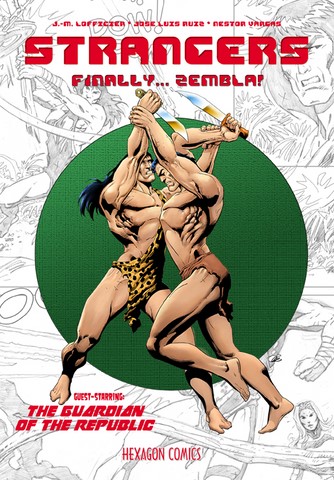 stories by Jean-Marc Lofficier; art by José Luis Ruiz Pérez, Nestor Vargas; cover by José Luis Ruiz Pérez. 96 pages b&w. US$14.95.
In this eleventh volume of Strangers, the heroes clash with the renegade Salamandrite known only as Mr. 17, to prevent the return of his alien masters, the Wan Lords, whom Kabur once defeated in the distant past. First, they travel to the African jungle of Karunda, and then to a secret research facility in the South of France, to stop Mr. 17 from using dimensional gateways to bring the space vampires to Earth.
Special guest-stars: The Guardian of the Republic! Zembla! And the amazing Attaturkey!
Special Promotion

40% OFF IF YOU BUY FIVE BOOKS OR MORE -- ANY BOOKS! (EXCEPT EBOOKS OR ARTBOOKS). USPS FREIGHT FREE (but no guarantees). UPS FREIGHT $10. E-mail me the title(s) and I'll send you a paypal invoice, or order as usual from our site, and I will refund you the excess money.
New e-books
(July 2023)
Available in
EPUB
or
PDF
formats. Please specify which format when ordering.