New Releases December 2019

FOR AN INEXPLICABLE REASON, PURCHASE BUTTONS FOR OUR DECEMBER RELEASES HAVE BECOME "INVISIBLE" ON CERTAIN BROWSERS (BUT NOT ON SOME, SUCH AS SAFARI). WE ARE SEEKING TO RESOLVE THIS PROBLEM. MEANWHILE, IF YOU DO NOT SEE A BUTTON, SEND ME AN EMAIL WITH THE TITLE OF THE BOOK OR BOOKS AND I WILL EMAIL YOU A CORRESPONDING PAYPAL INVOICE.
Tales of the Shadowmen 16: Voir Dire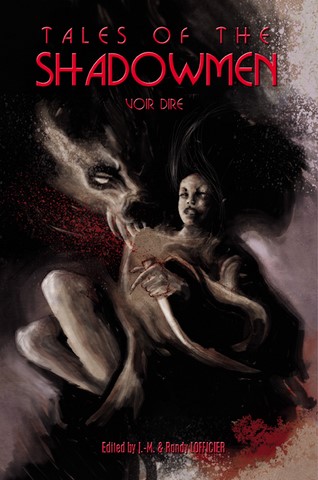 edited by Jean-Marc & Randy Lofficier - cover by Daniele Serra.
READ AN EXCERPT
- 280 p. - US$22.95
Voir Dire! Verum Dicere... To speak the truth... Now referring to the cunning probing to which jurors and experts are subject during a trial in order to force them to disclose any bias or explain their background -- here, illustrated by fifteen stories in which some of the bravest heroes and most despicable villains are tested to their limits by friends and foes alike! The Domino Lady faces Fantômas--twice! Felifax crosses paths with Mowgli... Madame Palmyre encounters Randolph Carter in Celephaïs... Count Saint-Germain investigates the Legacy of Atlantis... Captain Vampire runs to become President of Russia... Joseph Rouletabille and Harry Dickson team up in London... Jean-Pierre Séverin the Vampire Hunter is sent on a mission to New Orleans... Doctor Eric Palmer investigates a murder at a pirates' gathering... All this, plus Arsène Lupin, Doc Ardan, Doctor Omega, the Nyctalope and the ever-dangerous Black Coats!
The Alluring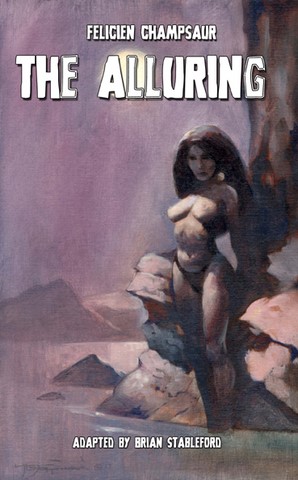 by Félicien Champsaur - adapted by Brian Stableford - cover by Mike Hoffman. READ AN EXCERPT - 180 p. - US$18.95


The Alluring (1931) is what is known as a Robinsonade—an account of a castaway on a desert island and his hard battle for physical and psychological survival. Félicien Champsaur, having decided to write a Robinsonade, aware that he was following in a great tradition, wanted to make it a Robinsonade that would go further than any other: a kind of ultimate Robinsonade. His principal interest is not in the basic requirements for physical survival, but in the subtler demands of mental survival: hypothetical solutions to the problem of psychological isolation.
Guardian of the Republic/Dragut/Scarlet Lips/Time Brigade
HEXAGON COMICS USA RELEASE by J.-M. Lofficier, & Alfredo Macall - cover by Alfredo Macall - 48 pages b&w- US$9.95.
Who is the mysterious enitity who has transported the indomitable GUARDIAN OF THE REPUBLIC to Mexico in the 16th century? And for what obscure reasons? The course of history is being threatened by the invasion of the powerful Baal-Sagur, a.k.a. THE NECROMANCER, who intends to chase the Spaniards and other Westerners from the New World and seize control of the American continent for himself. But the villainous mastermind did not plan for the intervention of CAPTAIN DRAGUT and his lovely companion, the vampire SCARLET LIPS...
PROMOTIONAL OFFER
40% DISCOUNT if you buy 5 books (or more) + freight paid (within US only). Write to us with the list of titles you wish to purchase and we'll email you a paypal invoice.
Latest e-books
(April 2019)
Available in EPUB or PDF formats. Please specify when ordering.