New Releases: January 2023
Blood Light (The Books of Anguish #1)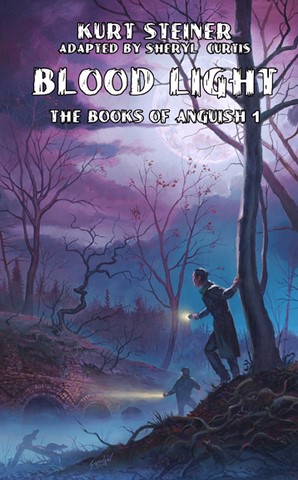 Two horror novels by Kurt Steiner adapted by Sheryl Curtis. cover by Mariusz Gandzel.
read a chapter
. 248 p. US$20.95.
BLOOD LIGHT: Driven to seek refuge during a hailstorm, a hitchhiker ends up at a strange mansion bathed in an everlasting crimson light.
A SHROUD OF MIST: During stormy nights, terrifying specters haunt the coastline of a small fishermen's village in Normandy....
"Kurt Steiner" is the pseudonym of André Ruellan (1922-2016), one of France's best-known science fiction and horror writers, as well as one of its most distinguished screenwriters.
The Books of Anguish collect Ruellan's classic horror novels written in the 1950s and 60s for publisher Fleuve Noir.
The Lords of the Depths #1: The Sea King
by Mario Cubbino & Studio Barbato; cover by Alfredo Macall. 88 p. b&w - US$12.95.
Underwater heroes and amphibian characters from Jules Verne's famous rogue submariner, Captain Nemo and his myriad imitators, to Marvel's Sub-Mariner and DC's Aquaman (1941), have always proved popular with comic book aficionados. Hexagon Comics introduced their own "Lords of the Depths" in six series, which we have sampled here in three issues. This is the first. In this volume, meet:
The Sea King (1969), drawn by the incomparable Mario Cubbino, starring. Daniel Cluny, an ex-captain of the French Navy, who was the subject of an experiment that gave him the ability to live and breathe underwater.
Bathy-09 (1978), a unit of the International Oceanic Force, created to police the undersea world, comprised of American skipper Tony Yale, French pilot Jean Pujo, and Italian navigator Bruno Valeri, cruising the seas aboard their submarine, the Shark-09.
Special Promotion

40% OFF IF YOU BUY FIVE BOOKS OR MORE -- ANY BOOKS! (EXCEPT EBOOKS OR ARTBOOKS). USPS FREIGHT FREE (but no guarantees). UPS FREIGHT $10. E-mail me the title(s) and I'll send you a paypal invoice, or order as usual from our site, and I will refund you the excess money.
New e-books
(January 2023)
Available in
EPUB
or
PDF
formats. Please specify which format when ordering.