New Releases June 2021
The Hunchback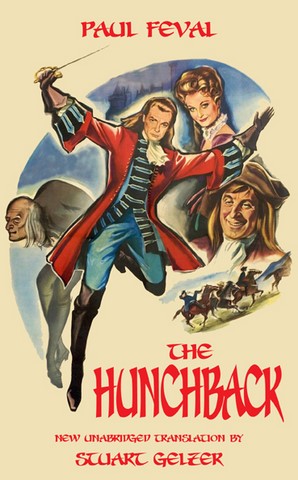 by Paul Féval - translated by Stuart Gelzer -
read a chapter
- 484 p. - US$36.95.

A classic tale of secret identities and swashbuckling vengeance stretching across decades, The Hunchback has thrilled readers since it first came out in 1857. Dashing young swordsman Henri de Lagardère vows justice for the treacherous murder of his friend, the Duke of Nevers, but first he has to raise Nevers's beautiful daughter Aurore as his own child –– and protect her from the same powerful villains who killed her father.
Regency Paris in the early 1700s is a time of debauched courtesans and dueling swordsmen. And among those, no one is more feared than the outlaw Lagardère, who alone knows the secret of the Nevers attack –– a fencing move that kills by striking right between the eyes!
Paul Féval's swashbuckling classic is as well-known and beloved in France as Dumas's Three Musketeers and has been adapted more than a dozen times for cinema and television. This is the first time it is presented in English in a complete and unabridged translation.

Guardian of the Republic/Zembla/Morgane/Ozark
story by Jean-Marc Lofficier; art by Eduardo Garcia, Alfredo Macall, Manuel Martin Peniche, Gabriel Mayorga, José Luis Ruiz Pérez; cover by Roberto Castro! - 56 p. b&w - US$12.95.
After the mighty shaman Ozark triumphed over the evil wizard Maleficus, the seven powerful mystic gems known as the "Fingers of Shivar" were scattered through time and space. But the witch Alecto plots to reunite them in order to take revenge on Morgane, whom she holds responsible for the death of her lover, the sinister Lord Raven, and resuscitate the latter in the body of Maxime Saint-Clair, the Guardian of the Republic! Only the combined efforts of Zembla and Ozark can save the French hero from such a dreadful fate. Guest-starring: Ivan Karine the Cossack and the Napoleonic Imperial Guardian!
Summer Promotion

40% OFF IF YOU BUY FIVE BOOKS OR MORE -- ANY BOOKS! (EXCEPT EBOOKS OR ARTBOOKS). USPS FREIGHT FREE (but no guarantees). UPS FREIGHT $10. E-mail me the title(s) and I'll send you a paypal invoice, or order as usual from our site, and I will refund you the excess money.
New e-books
(December 2020)
Available in
EPUB
or
PDF
formats. Please specify which when ordering.