New Releases: June 2022
Doctor Mystery
novel by Paul d'Ivoi - adapted by Nina Cooper - annotations by Jean-Marc Lofficier - afterword by Marie Palewska - cover by Roberto Castro.
READ A CHAPTER
- 364 pages. US$24.95.

Doctor Mystery (1900) is the third in a series of four volumes of The Eccentric Voyages to be published by Black Coat Press, after Around the World on Five Sous (1894) and Miss Musketeer (1907), in order to illustrate d'Ivoi's not insignificant contribution to the French roman scientifique. In it, the hero travels through India in a sophisticated, electric-powered vehicle with his young companion, a Parisian street urchin nicknamed Cicada, on a mission of revenge, as well as a plan to free India from the yoke of the British Empire. Who is Doctor Mystery? What secrets are buried in his past? Will his scientific arsenal prove sufficient to fight the dark forces who have decreed his death?


Guardian of the Republic / Count Saint-Germain / John Mist
Story by Jean-Marc Lofficier; art & cover by Luciano Bernasconi.. 48 p. b&w - US$9.95.
December 1804. Napoleon Bonaparte is about to be crowned Emperor of France by the Pope at Notre-Dame Cathedral in Paris. But the diabolical sorcerer Maleficus plans to assassinate him and take his place. Against this sinister plan stand the Marquis de La Fayette, his faithful manservant, Albert Saint-Clair, known as the Guardian of the Republican, and the mysterious Count Saint-Germain, Maleficus' sworn enemy. However, the necromancer is not alone: he has joined forces with the formidable legendary Vampire Countess Addhema. To win, our heroic trio have to call on a fourth champion forged in the flames of the Revolution: John Mist, whose hitherto mysterious origins are finally revealed!
Captain Ukraine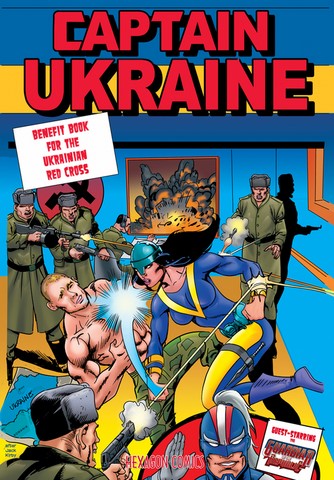 BENEFIT BOOK FOR THE UKRAINIAN RED CROSS
Story by J.-M. Lofficier - art & cover by Constanzo - art by Vincenzo Chiomenti - 56 p. b&w - US9.95.

This special issue introduces a character who is both new and yet has been part of the Hexagon Universe since 1963: Captain Ukraine! Nadiya Karine, the modern-day version of this hero, introduced alongside the French Guardian of the Republic in her very first appearance here (in a story by J.-M. Lofficier & Constanzo), is none other than the descendant of Ivan Karine, a Ukrainian Captain from the 17th century, created by Vincenzo Chiomenti, whose exploits were first published in 1963. The Karine family belongs to the Zaporozhian Cossacks, who were the progenitors of the Ukrainian nation. The first story of this classic series is reprinted here, along with a foreword providing details on this historical, yet still topical, character.

This issue features the Captain Ukraines of the 17th, 19th, 20th and 21st centuries, united in a common effort to defeat injustice and tyranny. During these tragic hours, Hexagon Comics stands with Ukraine, uniting past and present by releasing this very special issue, the profits of which will be donated to the Ukrainian Red Cross.


New Year Promotion

40% OFF IF YOU BUY FIVE BOOKS OR MORE -- ANY BOOKS! (EXCEPT EBOOKS OR ARTBOOKS). USPS FREIGHT FREE (but no guarantees). UPS FREIGHT $10. E-mail me the title(s) and I'll send you a paypal invoice, or order as usual from our site, and I will refund you the excess money.
New e-books
(January 2022)
Available in
EPUB
or
PDF
formats. Please specify which when ordering.