New Releases: November 2022
The Handbook of French Fantasy & Supernatural Fiction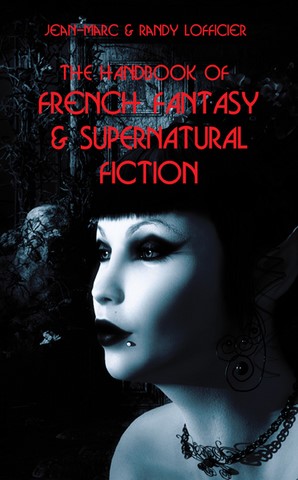 by Jean-Marc & Randy Lofficier. cover by Nathalie Lial. 308p. US$22.95.
A panoramic history of French fantasy, horror and supernatural fiction from the 12th century to the end of the 20th century. FOUNDATION: "A truly epic enterprise." Brian Stableford. INTERZONE: "A remarkable and laudable job." Mike Ashley. LOCUS (made the Recommended Reading list): "A fine historical article." Charles N. Brown. "Solidly researched, informative, and clearly written… A pretty comprehensive history of the French fantastic... The most enlightening reference book of the year." Gary K. Wolfe. SCIENCE FICTION STUDIES: "A significant event… The first heroic attempt to provide, in English, a comprehensive overview of the history of Francophone speculative fiction… An important milestone in today's SF criticism." Arthur B. Evans. SF ENCYCLOPEDIA: "Enthralling."
Strangers #9: The Fall of Atlantis
by Jean-Marc Lofficier; art & cover by Alfredo Macall. Additional art by Gabriel Mayorga, Manuel Martin Peniche, Juan Roncagliolo Berger. 88 p. b&w - US$12.95.
Will the Towers prove true to their word and release Starlock? Will Homicron return in time to help her fellow Strangers? Will Atlantis fall as it was preordained? All our heroes are on stopping the evil Twilight Lord Kruge from using the all-powerful weapon Kera to rewrite the course of history. Starlock, Starcyb, Homicron, Tanka, Count Saint-Germain, Dick Demon, Kit Kappa, the Zorr-ko, the Time Brigade and more are fighting a hopeless battle to thwart Kruge's mad plan. But what if the weapon had its own plans? Suddenly, it is no longer only the history of Earth which hangs in the balance, but that of the entire universe!
Special Promotion

40% OFF IF YOU BUY FIVE BOOKS OR MORE -- ANY BOOKS! (EXCEPT EBOOKS OR ARTBOOKS). USPS FREIGHT FREE (but no guarantees). UPS FREIGHT $10. E-mail me the title(s) and I'll send you a paypal invoice, or order as usual from our site, and I will refund you the excess money.
New e-books
(July 2022)
Available in
EPUB
or
PDF
formats. Please specify which when ordering.