New Releases: April 2023
The Handbook of French Fantastic Cinema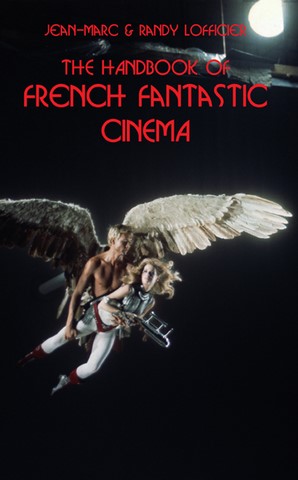 by Jean-Marc & Randy Lofficier. cover by Colette Forest. 312 p. US$22.95.
STARLOG (David McDONNELL) "There is simply, no book like this one. Highly recommended." VIDEO WATCHDOG (Tim LUCAS) "...the instant I saw it, I knew that it was going to fill a major void in my library. I've just spent the last hour perusing it with admiration... It's an awe-inspiring survey of the history of French fantastique in all its forms... I've been saying for years, even though the French were responsible for starting it all, that there really has been no French tradition of the fantastic, but the completeness of this book is going to make me eat my words." UTOPIAN STUDIES (George SLUSSER) "I can say, honestly, that I stand in awe of the labor and erudition that went into this book. It is in the same league as the Clute/Nicholls Encyclopedia, and all the more astonishing in the fact that it is the work of two people, not of multiple hands. It is an invaluable tool for any future research in this fascinating area of French culture... I salute the energy, intelligence and effort that went into producing this work, and can only wish more scholars would follow this example."
Kabur: The Red Star
story by Jean-Marc Lofficier; art & cover by Mike Ratera. 64 p. color - US$19.95.
Over a hundred million years ago... KABUR of Thule has reigned over the kingdoms of Hyperborea for decades... Then, like all must do, he died; however, his name became legend... Several centuries later, Earth was conquered by the monstrous HEMOCRATS, the Wan Lords of the RED STAR, cosmic vampires who came from a far away, nameless region of space... Thus KABUR was summoned back from the dead by his ancient foe, the mysterious REAPER, and with his help, and that of the brave young feline MIRAMAZE, he took up once again his legendary Spear to free his world and reclaim his throne...
This fantastic saga of King Kabur by Jean-Marc Lofficier and renowned Spanish artist Mike Ratera completes the cycle of the adventures of the classic heroic fantasy character created in 1975 by Claude J. Legrand and Luciano Bernasconi.
Special Promotion

40% OFF IF YOU BUY FIVE BOOKS OR MORE -- ANY BOOKS! (EXCEPT EBOOKS OR ARTBOOKS). USPS FREIGHT FREE (but no guarantees). UPS FREIGHT $10. E-mail me the title(s) and I'll send you a paypal invoice, or order as usual from our site, and I will refund you the excess money.
New e-books
(January 2023)
Available in
EPUB
or
PDF
formats. Please specify which format when ordering.