Zigomar 2: Time for Justice!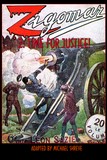 NOTE: YOU ARE PURCHASING AN E-BOOK, NOT A PAPER BOOK. WHEN ORDERING, PLEASE SPECIFY IN THE COMMENTS IF YOU PREFER A PDF OR AN EPUB FILE. THE FILE WILL BE E-MAILED TO YOU AS SOON AS PAYMENT IS RECEIVED.
ZIGOMAR 2: TIME FOR JUSTICE!
by Léon Sazie
adapted by Michael Shreve
cover by Georges Vallée
"I'm accusing the one who signed these crimes with his initial… Z... I accuse Zigomar!"
Zigomar is a character dreamed up by Léon Sazie in 1909, two years before the now much more celebrated Fantômas. An evil, nefarious character, a criminal genius, Zigomar was so popular in his time that his picture could be found on bags of bread, pipes and matchboxes.
Masked, hooded, or in disguise, Zigomar constantly bedevils the law. The first of the masked super-criminals, he shares with Fantômas a taste for gratuitous, melodramatic crimes, imaginative atrocities (typhus-bearing mosquitoes being only one such example), murder, kidnapping, robbery, and torture. His inevitable escape from the clutches of the law, his perpetual evasion of justice, made him very popular with the public and he left his mark on the history of crime fiction.
Of Basque origin, Léon Sazie was born in Algeria in 1862 and died in an accident in Suresne near Paris in 1939. When he was still a child, his father committed suicide after being ruined in a bank fraud. Sazie eventually became a journalist, before turning to theater and, eventually, to serial fiction. He created Martin Numa, King of detectives, in 1908, and Zigomar a year later. He was also a brilliant fencer who fought several duels.
This volume, translated and introduced by Michael Shreve, contains a translation of the second and third Zigomar novels, plus an introduction.
Contents:
Introduction
BOOK TWO: LIONS AND TIGERS (1910)
BOOK THREE: TIME FOR JUSTICE (1910)