Around the World on Five Sous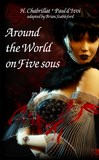 Around the World on Five sous
by H. Chabrillat & Paul d'Ivoi
adapted by Brian Stableford
cover by Nathalie Lial

"I only institute him as my universal legatee on one express condition: the fellow does not know the value of money; he would squander my fortune; thus, Lavarède must leave Paris with five sous in his pocket, and he must go around the world with no other sum at his disposal."

US$24.95/GBP 16.99
6x9 tpb, 356 pages
ISBN-13: 978-1-61227-369-3

Armand Lavarède is a penniless young journalist who inherits a fortune from a wealthy cousin on the condition that he must first travel around the world in under a year with only five "pennies" in his pocket. If he fails, the money will go his creditor, the rapacious M. Bouvreuil, but during his journey, Lavarède knows he can count on the help of the pretty Miss Aurett, the daughter of Sir Murlyton, in order to to help him successfully gain his inheritance.

Les Cinq sous de Lavarède was a tremendous success, not only as a book--it has been constantly in print since its first publication in 1894--but also in other media; it was filmed three times in 1913, 1927 and 1939, the latter version starring Fernandel and Josette Day.

It was the best of all the novels inspired by Jules Verne's classic Around the World in 80 days; the Voyages Excentriques imprint Paul d'Ivoi launched in its wake, producing 21 volumes until his death in 1915, was the most successful of all Vernian series.

Contents:
Les Cinq Sous de Lavarede (1894)
Introduction and Notes by Brian Stableford.