Balzac's Cane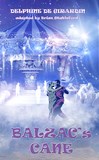 BALZAC'S CANE
by Delphine de Girardin
adapted by Brian Stableford
cover by Phil Cohen

What reason had persuaded Monsieur de Balzac to load himself down with that club? Why did he always carry it with him? For reasons of elegance, infirmity, mania or necessity? Did it conceal an umbrella, an épée, a dagger, a carbine, an iron bedstead?

US$22.95/GBP 14.99
5x8 tpb, 324 pages
ISBN-13: 978-1-61227-368-6

Delphine de Girardin (1804-1855) was the daughter of famous writer and playwright Sophie Gay (1776-1852). She began writing at an early age, publishing two books of poems in 1824 and 1824, and a popular collection of children's stories in 1833. She later married writer-journalist Emile de Girardin (1802-1881) and became an important figure in the Romantic Movement.

This book collects two of her best Romantic fantasies: The Lorgnon (1831), about a pair of glasses that enables their wearer to read thoughts, and Balzac's Cane (1836), in which the famous author allows a young man down on is luck to borrow the eponymous object, which confers upon its owner the gift of invisibility.

These two stories remain highly readable today, all the more so if one can discover them with an awareness of their ground-breaking qualities.

Contents:
Le Lorgnon (1831) (Charles Gosselin, 1831)
La Canne de M. de Balzac (Dumont, 1836)
Introduction and Notes by Brian Stableford.