Blood Light (Books of Anguish 1)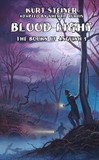 BLOOD LIGHT (BOOKS OF ANGUISH 1
+ A SHROUD OF MIST
2 horror novels by Kurt Steiner
translated by Sheryl Curtis
cover by Mariusz Gandzel

US$ 20.95/GBP 18.99
5x8 tpb, 248 pages
ISBN-13: 978-1-64932-169-5
BLOOD LIGHT
Driven to seek refuge during a hailstorm, a hitchhiker ends up at a strange mansion bathed in an everlasting crimson light.

A SHROUD OF MIST
During stormy nights, terrifying specters haunt the coastline of a small fishermen's village in Normandy....

"Kurt Steiner" is the pseudonym of André Ruellan (1922-2016), one of France's best-known science fiction and horror writers, as well as one of its most distinguished screenwriters.

The Books of Anguish collect Ruellan's classic horror novels written in the 1950s and 60s for publisher Fleuve Noir.
Contents:
Introduction by Jean-Marc Lofficier
Foreword by Philippe Curval
BLOOD LIGHT (LUMIERE DE SANG) (1958)
A SHROUD OF MIST (DANS UN MANTEAU DE BRUME) (1959)