Fays of the Sea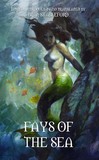 FAYS OF THE SEA AND OTHER FANTASIES
Edited, Introduced & Translated by Brian Stableford
Cover by Mike Hoffman
Have no fear, beautiful lovers, love one another in the bright daylight, in the pathways, near the water of springs, wherever you are.



US$ 20.95 / GBP 18.99
5x8 tpb, 264 pages
ISBN-13: 978-1-64932-054-4

The 20 stories collected in the present volume, all written during the 19th century, may not be real contes de fées, in the sense of the classic works of the Comtesse de Murat and Madame d'Aulnoy, but they do retain conscious echoes of the originals, and despite the interference in the genre's subsequent history, they maintain residues of the same spirit as well as fragments of imagery.

Some writers developed the more broadly comic aspect of the genre; others created "authentic" folkloristic materials in a semi-reverent manner, while maintaining a certain contemporary relevance. Finally, a few managed to take the reborn genre of contes de fées to new extreme of symbolist fantasies in the pages of newspapers.

Taken together, these stories are a belated testament to the enterprise and creativity of their distinguished predecessors of the 1690s.
CONTENTS
Introduction
The Isle of Monsters by Stéphanie de Genlis (1822)
The Last Fay by Jules Sandeau (1844)
The Fay Grignote by Delphine de Girardin (1832)
Fays of the Sea by Alphonse Karr (1851)
The Fays' Place by Charles Deslys (1853)
The Fay Amoureuse by Émile Zola (1864)
The Dust Fay by George Sand (1875)
The Rag-Picker by Théodore de Banville (1880)
A Poor Catch by Catulle Mendès (1886)
The Valley of the Fays by Paul Arène (1891)
The Tale of a Fay by Armand Silvestre (1892)
Argentine by Antoine de l'Estoille (1892)
The Fays by Georges de Peyrebrune (1892)
Tiphaigne by Jean Lorrain (1893)
Mistaken Accounts of Fays by Henry Gauthier-Villars (1894)
The Guardian of Dreams by Paul Margueritte (1895)
The Knight and the Fay by René Maizeroy (1896)
A Tale of the Present and the Past by Jacques Frehel (1899)
The Haunted Water by Lucie Delarue-Mardrus (1907)
Gugemer by André Beaunier (1909)