French Tales of Alien Encounters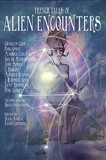 FRENCH TALES OF ALIEN ENCOUNTERS
stories by Charles Cros, Paul Gsell, Maurice Leblanc, Guy de Maupassant, José Moselli, C. Paulon, Maurice Renard, J. H. Rosny Aîné, Edmé Rousseau and Paul Vibert
translated by Brian Stableford (with the exception of The Three Eyes)
edited by Jean-Marc & Randy Lofficier
cover by Mike Hoffman
US$29.95 - 6x9 tpb, 400 p. - ISBN-13: 978-1-64932-109-1

The theme of alien encounters runs throughout the history of the French roman scientifique—a genre that some might call proto-sf—from the 18th century to today.

We have gathered in this thematic collection nine remarkable short stories by Charles Cros, Paul Gsell, Guy de Maupassant, José Moselli, C. Paulon, Maurice Renard, J. H. Rosny Aîné, Edmé Rousseau and Paul Vibert, published between 1859 and 1939, plus a full-length novel by Maurice Leblanc—the father of Arsène Lupin—The Three Eyes published in 1919.

These stories are highly original, in presenting an image of aliens and alien encounters far more bizarre and complex than most work of interplanetary fiction, often refusing to be fettered by the inconvenient details of scientific observation and thus sometimes primitive by modern standards. However, they are unique, albeit within the framework provided by the rich tradition of fantastic voyages, and provides a striking illustration the broadness of that spectrum in French literature.


TABLE OF CONTENTS

Introduction by Jean-Marc & Randy Lofficier
Edmé Rousseau: The Aerial Journey.
Charles Cros: An Interastral Drama.
Guy de Maupassant: Martian Mankind.
J. H. Rosny Aîné: Another World.
C. Paulon: A Message from the Planet Mars. (see correction below)
Paul Vibert: Proving that the Planet Mars Is Inhabited.
Maurice Leblanc: The Three Eyes.
José Moselli: The Planetary Messenger.
Paul Gsell: Wireless Communication with the Stars.
Maurice Renard: On The Planet Mars.
Correction: C. Paulon : A Message from the Planet Mars is the translation of A message from Mars, a short story of John Munro (1849-1930) originally published in Cassell's Family Magazine, march 1895.