Gaspard de la Nuit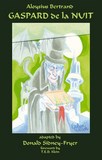 GASPARD DE LA NUIT
by Aloysius Bertrand
adapted by Donald Sidney-Fryer
Foreword by T.E.D. Klein
cover by Gahan Wilson

"So, Gaspard de la Nuit would be?..." "Oh, yes! The Devil!" "Thank you, my good man! If Gaspard de la Nuit is in Hell, may he burn there. I shall print his book."

US$20.95/GBP 12.99
5x8 tpb, 232 pages
ISBN-10: 0-9740711-2-9
ISBN-13: 978-0-9740711-2-1

Aloysius Bertrand's classic text of poetic and fantastic literature is presented in an entirely new translation by renowned poet Donald Sidney-Fryer. This edition also includes an extensive introduction, 18 illustrations by Bertrand himself, a foreword by T.E.D. Klein and a cover by celebrated artist Gahan Wilson.

Gaspard de la Nuit combines the haunting gothic imagery of Hoffman with the colorful romantic verve of Victor Hugo. In it, you will meet Scarbo the vampire dwarf, Ondine, the faerie princess of the waters, and an unforgettable assortment of lepers, alchemists, beggars, swordsmen and ghosts.

Gaspard de la Nuit inspired Baudelaire, Rimbaud, Mallarmé, the Surrealist Movement and composer Maurice Ravel, who wrote a suite of virtuoso piano pieces patterned after it.

Aloysius Bertrand's ground-breaking collection of prose ballads was published in 1842, a year after his death at 34.

This new edition has been entirely retranslated by renowned poet and literary historian Donald Sidney-Fryer, the author of Songs and Sonnets Atlantean who has edited four collections of prose and poetry by Clark Ashton Smith. In his extensive introduction and afterword, Sidney-Fryer retraces the steps in Bertrand's life, casts a new light on his works and follows the elusive Gaspard from the Three Kings of Bethlehem to Casper the Friendly Ghost.

This collection features a foreword by T.E.D. (Ceremonies) Klein and is illustrated by drawings from Bertand himself.

Contents:
- Foreword by T.E.D. K;ain
- Introduction by Donald Sidney-Fryer
- Gaspard de la Nuit (1842) by Aloysius Bertrand witrh illustrations by Bertrand
- Afterword by Donald Sidney-Fryer