Growling into the Abyss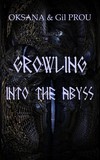 GROWLING INTO THE ABYSS
novel by Oksana & Gil Prou
translated by Sheryl Curtis
cover by Marije Berting.
US$ 19.95/GBP 15.99
5x8 tpb, 208 p.
ISBN-13: 978-1-64932-126-8

A few minutes before Konvent steps onto the Copenhell stage, a section of the ground caves in behind the crowd of Metal enthusiasts. The young Danish women's powerful Deathdoom attracts thousands of fans who rejoice and shout as they listen to Rikke's cavernous voice, Julie's and Heidi's hypnotic beat, and Sara's guitar riffs.

Pushed by an invisible force, the musicians and the singer approach the giant cavity.

A mind-blowing, underground odyssey starts then. The battles will be tough. The four young women will have to fight against sound tsunamis. The telluric power of their music will be their only weapon for defeating monsters lurking in the heart of the shadows.

A Duel of Titans, this war will end with Growling into the Abyss.