Harry Dickson - Krik-Krok, The Walking Dead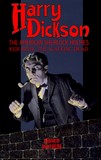 HARRY DICKSON The American Sherlock Holmes - KRIK-KROK, THE WALKING DEAD
From The Secret Files of The King of Detectives
adapted by Stuart Gelzer
cover by J.-M. Nicollet


This Krik-Krok is a truly terrifying being!

US$ 20.95/GBP 18.99
5x8 tpb, 254 pages
ISBN-13: 978-1-64932-157-2
When inhuman monsters walk the Earth, threatening the good and the helpless, Justice has no stronger defenders than Harry Dickson and his assistant Tom Wills, who fight the forces of evil and cast them back into the Darkness from whence they came.

Harry Dickson began as an unauthorized Sherlock Holmes pulp series in Germany in 1907, before changing its name and morphing into a hugely popular saga in Holland, Belgium and France, with 178 issues published between 1927 and 1938, especially after it was entrusted to the editorship of Belgian horrormeister Jean Ray.

This volume includes seven original episodes: Krik-Krok in which Dickson meets a terrifying "Walking Dead," The King of Midnight, in which Dickson faces a superhumanly strong foe, The House of Great Peril, in which Dickson faces unprecedented dangers, The Seven-Pointed Star, and more.

This famous Holmesian pastiche has been translated by Stuart Gelzer and includes original cover illustrations.


Contents:
Introduction by Jean-Marc Lofficier
146. Cric-Croc, Le Mort en Habit (Krik-Krok, The Walking Dead) (1935)
105. Le Roi de Minuit (The King of Midnight) (1934)
145c. L'Herbe des Monstres (The Herb of Monsters) (1935)
145b. Le Secret de Bray House (The Secret of Bray House) (1935)
141a. L'Étoile à Sept Branches (The Seven-Pointed Star) (1935)
144. La Maison du Grand Péril (The House of Great Peril) (1935)
145a. Les Tableaux Hantés (The Haunted Paintings) (1935)