Midnight!!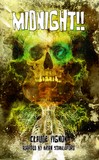 MUDNIGHT!!
By Claude Vignon
Introduced & Translated by Brian Stableford
Cover by Aurelien Maccarelli
"I extended my hand and felt the cold of marble; then, a more intense, more penetrating chill, more repulsive to my flesh froze the blood in my veins. What I recognized, as a student of medicine, was the chill of death…

US$ 22.95/GBP 20.99
5x8 tpb, 272 pages
ISBN-13: 978-1-64932-084-1
Minuit!! récits de la veillée, signed "Claude Vignon," the nom-de-plume of the sculptor Marie-Noémi Cadiot (1828-1888), once briefly married to "Éliphas Lévi," was first published in 1856.

The six stories contained therein are the work of an intelligent, well-informed and thoughtful author, and are remarkable in mapping out an evolutionary spectrum of Gothic and post-Gothic fantasies that exemplifies certain key phases within the evolution of Romantic fantasy. Two are set in Germany, one in the Middle Ages and one in the sixteenth century, and are described as "legends,"

The others is pure Gothic melodrama, deliberately brutal in their supernatural improvisations and their deployment in unusually stark moral fantasies. There are few examples in French Romantic fiction that are as forthright as Midnight!!


CONTENTS
Translator's Introduction
Author's Introduction
The Guest of the Dead
The Dead Avenge Themselves
The Devil's Ten Thousand Francs.
Isobel the Resuscitated
The Reflection of Conscience
The Slab

Minuit!! récits de la veillée,(Amyot, 1856.; aka Contes à faire peur, 1856)