Sisters of the Shadows 2: The Cagliostro Curse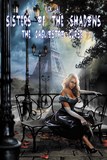 SISTERS OF THE SHADOWS 2: THE CAGLIOSTRO CURSE
by Rick Lai
cover by Amar Djouad

Now you know, daughter of the Cagliostros, how your mother felt as life slipped away. She cried for their blood of her tormentors. Do you?

US$20.95/GBP 12.99
6x9 tpb, 248 pages
ISBN-13: 978-1-61227-201-6

In the 1890s, Josephine Balsamo, a.k.a. Countess Cagliostro, is poised to take over the powerful crominal conspiracy known as the Black Coats. One person stands in her way: Irina Putine, a female detective, who happens to be the half-sister of Arsène Lupin, the notorious gentleman-thief!

Sisters of the Shadows recounts the brutal vendetta between these two women, a merciless decades-long war which involve the greatest gunslingers of the American West, the most dangerous assassins of Europe, the terrifying Fantômas, an immortal sorceress, and the ruler of all vampires, Count Dracula!

"Rick Lai's tales are bigger than the words it takes to tell them, larger than the pages upon which they are printed." -- Win Scott Eckert (author of Crossovers: A Secret Chronology of the World).
Contents:
Introduction by Win Scott Eckert
Dr. Cerral's Patient
The Diary of Desolation
All Predators Great and Small
Urania's Babysitter
The Lady in the Black Gloves
Corridors of Deceit
Cut the Branch
Unseen Stratagems
Consequences of a Funeral
Kingdom of the Blind
Incident in the Boer War
The Last Vendetta
Afterword
Cast of Characters