Tales of King Cambrinus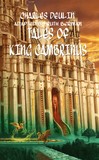 TALES OF KING CAMBRINUS
TALES OF A BEER-DRINKER
by Charles Deulin
translated and introduced by Ruth Berman
cover by Michel Borderie
US$26.95 - 6x9 tpb, 360 p. - ISBN-13: 978-1-64932-258-6

Charles Deulin (1827-1877) was a French writer, theatre critic, and folklorist who is mostly remembered today for his contemporary adaptations of European folk tales. His work has been kept in print for its humor, sense of wonder, and love for the culture of eastern France/western Belgium. He published two collections of fairytales, Tales of a Beer-Drinker (1868) and Tales of King Cambrinus (1874), both included in this volume.

Meet Cambrinus, the king of beer; Green-Jeans, the dragon slayer; Martin and Martine, the bell ringing lovers; Little Peter, who will become the fabled Manikin-Pis; the Wandering Jew; Death and the Devil as drinking companions; and many more colorful characters.

Deulin reinvigorated classic tales by incorporating local vernacular language and infusing them with the character of the Low Countries in which he lived, a region where customs and folklore rhyme with the pleasures of tasting and beer-drinking.



TABLE OF CONTENTS
Introduction.
TALES OF A BEER-DRINKER..
Cambrinus, King of Beer
Death's Godson.
The Inn of the Seven Deadly Sins.
Green-Jeans, The Conqueror of the Lumçon.
The Little Soldier
The White Sparrow..
Manikin-Pis.
The Guerliche's Nutmeg-Balls.
Death's Godson (II)
Martin and Martine.
The Candle of the Kings.
Misery's Pear Tree.
Walnut John's Thirty-Five Encounters.
Notes. 180
TALES OF KING CAMBRINUS.
Preface.
Gayant the Bold.
The Tailors' Flag.
The Devil's Stewpot
The Twelve Dancing Princesses.
The Lady of the Lights.
The Nettle-Spinner
La Ramée's Tale.
The Wolf-Oak.
Caillou qui Biques!
The Viol d'Amore.
Love's Desire.
The Champion Crosse-Player
Caracol Bistécol
The Maids of Wheat-Marie.
Pipette's Paradise.
Notes.