Tales of the HexagonVerse #2: Family Business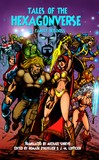 NOT A COMIC BOOK, BUT AN EXCITING COLLECTION OF PROSE STORIES!

TALES OF THE HEXAGONVERSE #2: FAMILY BUSINESS
short story collection edited by Romain d'Huissier & J.-M. Lofficier; translated by Michael Shreve; cover by Alfredo Macall.

Stories by Nelly Chadour, Anthony Combrexelle, Robert Darvel, Willy Favre, Amaury Fourtet, Raphael Lafarge, Jean-Marc & Randy Lofficier, Ghislain Morel, Blanche Saint-Roch, Artikel Unbekannt and Patrice Verry.


US$ 20.95 /GBP 18.99
5x8 tpb, 240 pages
ISBN-13: 978-1-64932-029-2


Since the dawn of time, tales about larger-than-life heroes have fascinated humanity.

An implacable enemy is stalking the Black Lys... The Sea King faces his deadliest challenge… Jessica Puma and Roxy confront a dark sorcerer in South Central L.A.… How did Jean Vlad become The Other… Wampus strikes in Italy… Sibilla and the rest of the Enchanters invade the world of nightmares… Plus Kidz, the Time Brigade, Aster & Pinky, Joanni Bourask, Zembla and more…

Hexagon Comics is one of the oldest French comics universes, with origins going back to the 1950s. Reinvented and modernized in the early 2000s, some of its best and most original characters are featured in this collection that brings together the talents of 12 international authors.


Contents:
Introduction.
Amaury Fourtet: Family Business.
Anthony Combrexelle: Boundless is Space.
Robert Darvel: 11,000 Underwater Gorges.
Willy Favre: Our Common Enemy.
Raphaël Lafarge : Rules.
Jean-Marc & Randy Lofficier: Dragut and the Sea Serpent
Ghislain Morel: Programmed Decay.
Blanche Saint-Roch: Monsters, Twilight and Co.
Artikel Unbekannt: Strategic Showdown.
Patrice Verry: A Nice, Quiet Village.
Nelly Chadour: Dream Catcher.