The Adventures of Ethel King, the Female Nick Carter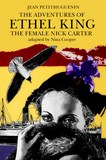 THE ADVENTURES OF ETHEL KING
THE FEMALE NICK CARTER
by Jean Petithuguenin
adapted by Nina Cooper
cover by Jean-Claude Claeys

It seems impossible that a woman could be capable of consecrating herself to a profession tied to such terrible dangers and which requires self-control, audacity, extreme resolution joined to shrewdness, and cleverness. Nevertheless a woman detective lives and works today in the United States of America, a woman who has been well-known for years for her preeminent abilities in the career she has chosen, and who has brought about numerous successes, each one more marvelous than the next.

US$ 20.95 /GBP 12.99
6x9 tpb, 236 p.
ISBN-13: 978-1-61227-233-7

Daughter of a detective, Ethel King takes up her father's career in order to avenge his death, as well as that of her fiancé, both brought down the same day by an assassin's bullet. King, like Miss Boston and Therese Arnaud, is an extraordinary woman,well ahead of her time. Although she practices a masculine profession, she is seductive and charming, moves comfortably in high society, and dresses elegantly. These characteristics hide her incisiveness, daring, strength, and accuracy with a gun. She solves cases involving murders, kidnappings, forgeries and extortions. She brings the guilty to justice, earns a satisfactory living and leads a comfortable life in Garden Street, Philadelphia.

There were only two women sleuths in French popular literature before the mid-20th century. The first, Miss Boston, was created by Antonin Reschal and appeared in 1908-1909. Jean Petithuguenin (1878-1939) wrote the second, Ethel King, shortly thereafter (1911-1914). This professor at the Faculty of Sciences was the official translator of the Nick Carter series. Ethel King ran for more than 100 bi-weekly issues in France, then was continued in Germany by other authors.

Edited by Paul Wessels with the generous contribution of Daniel Auliac.
Contents:
Ethel King: Le Nick Carter Feminin. 1912-1914.
Introduction
Bibliography of Ethel King
1. ETHEL KING, THE FEMALE NICK CARTER
2. THE EVIL SPELL
3. JACK THE RIPPER, THE WOMAN-KILLER
4. THE SIGN OF THE DEVIL
5. A MODERN SALOMÉ
6. A CRIMINAL ASSOCIATION
7. THE BLOODY WHITE ROSES.
8. A DAY AMONG THE FEMALE MONSTERS
9. TRAGIC RIVALRY
10. RUBY, THE BLACK MILLER