The Adventures of Therese Arnaud of the French Secret Service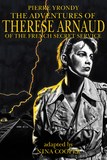 THE ADVENTURES OF THERESE ARNAUD
OF THE FRENCH SECRET SERVICE
by Pierre Yrondy
adapted by Nina Cooper
cover by Jean-Claude Claeys

"Thanks to the information you brought me from Spain, two German submarines have been sunk before they even reached the Mediterranean. That's a victory already. As for the photographs of the code, they allowed us to decipher the documents we couldn't decode."
Captain Ladoux held out his hand to Thérèse Arnaud.
"Congratulations on the Spanish business, C.25. But don't weigh yourself down about Mata Hari! She's a dancer! Believe me, we have many things more serious to think about."
"We'll see!" Thérrèse Arnaud replied with a smile.

US$ 22.95 /GBP 14.99
6x9 tpb, 280 p.
ISBN-13: 978-1-61227-181-1

Thérèse Arnaud, a.k.a. Agent C.25, is a member of the French Deuxième Bureau secret service tasked with fighting enemy spies operating in WWI France. She is a thoroughly modern woman: independent, intelligent, sure of herself and of her calling. She deploys and controls her own network of sub-agents and poses as Mademoiselle Janine Félerat in Parisian high society.

Thérèse Arnaud, the creation of mystery writer Pierre Yrondy, is one of the few long-standing female characters in popular French literature. Her adventures were published in 65 magazines in 1934-36, and reprinted in 1946. The eight episodes translated in this collection include Thérèse's epic battle against German spies Karl Himmelfeld, Mademoiselle Doktor, and the notorious Mata Hari.

Edited by Paul Wessels with the generous contribution of Daniel Auliac.

Contents:
Introduction
Editor's Preface
Bibliography of Thérèse Arnaud
A DRAMA IN THE METRO
KARL HIMMELFELD'S REVENGE
THE SECRET OF THE VILLA
THE VIOLET MASK
THE GREEN LIGHT
THÉRÈSE ARNAUD VS MATA HARI
RACE TOWARD DEATH
THE WOMAN WITH THE MUFF