The Angel and the Sphinx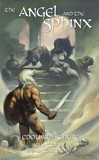 THE ANGEL AND THE SPHINX
by Edouard Schuré
Adapted by Brian Stableford
cover by Mike Hoffman
Beware of the Sphinx, which has the face and breasts of a woman and the claws of a tiger...


US$20.95/GBP 12.99
5x8 tpb, 200 pages
ISBN-13: 978-1-61227-879-7
Young knight Konrad de Felseneck, last descendant of a noble line, discovers that a curse hangs over his family: women are the curse of the Felseneck since the betrayal of his ancestor during the first crusade. Then he falls into the hands of the beautiful and cruel Gertrude, a young widow whose previous husbands have killed themselves in despair.
The Angel and the Sphinx (1897) is one of the most phantasmagorical and intense Romantic and Symbolist novels on the themes of femmes fatales, reincarnation and expiation. Penned by Edouard Schuré, the author of The Great Initiates (1889), it appeals to fans of flamboyant fantasy fiction as well as connoisseurs of Symbolist fiction.
Introduction
The Angel and the Sphinx (1897)
Tintoretto's Pupil (1882)