The Call of the Beast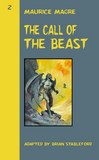 THE CALL OF THE BEAST & OTHER STORIES (2 of 12)
by Maurice Magre
adapted by Brian Stableford
cover by Mike Hoffman


You're possessed by the devil, my dear in the manner of those in the Middle Ages. Except that the devil might be a charming and very superior being.

US$ 23.95 /GBP 14.99
5x8 tpb, 308 pages
ISBN-13: 978-1-61227-653-3

Maurice Magre (1877-1941) was one of the most far-ranging and extravagant French writers of fantastic fiction in the first half of the 20th century, and perhaps the finest of them, because of the fertility and versatility of his imagination and the manner and purpose for which he deployed it.

This volume, the second of a series of twelve dedicated to Magre's works, offers three novellas: Stabbed Doves The Tender Comrades and The Call of the Beast written between 1917 and 1920. Having tried sex and opium as roads to the ideal and found them wanting, Magre found a further potential resource, in the occult underworld of Paris

In all three works the intrusion of the fantastic is limited, confined to opium dreams in the first two and maintained in a strictly ambiguous fashion in the third. Thereafter, the fantastic was liberated in all of his fiction, initially mostly in a malign role, but eventually serving much more various functions, many of them life-enhancing.


Contents:
Les Colombes poignardées [Stabbed Doves, 1917]
La Tendre camarade [The Tender Comrade, 1918]
L'Appel de la bête [The Call of the Beast, 1920]
Introduction, Afterword and Notes by Brian Stableford.