The Casebook of Monsieur Lecoq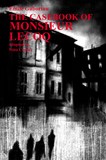 THE CASEBOOK OF MONSIEUR LECOQ
by Emile Gaboriau
adapted by Nina Cooper
cover by Daniele Serra

US$41.95/GBP 28.99
6x9 tpb, 576 p.
ISBN-13: 978-1-61227-504-8

Emile Gaboriau, who was Paul Féval's secretary, penned these two masterpieces of early detective novels in 1867:

The Orcival Murder: Poachers discover the lifeless body of Countess of Tremorel in the woods near her castle. Her home has been ransacked and her husband has vanished. Despite the myriad of clues left to mislead the police, Monsieur Lecoq of the Sûreté solves the puzzle -- but at what price?

File 113: A bank's safe is robbed. Two men are suspected: one is the bank's owner who lives above the bank, the other is his trusted manager. But what if neither is guilty? Leave it to Monsieur Lecoq, a detective of many disguises and much guile to uncover the devastating truth of deceit, betrayal, lies and murder.

These two classics have been retranslated and annotated by Nina Cooper, who holds a Ph. D. in contemporary French literature from the University of Texas at Austin. Dr. Cooper has previously translated Gaboriau's masterpiece Monsieur Lecoq for Black Coat Press. She has done work on the plays of Gabriel Marcel and Jean-Paul Sartre, as well as on the short stories of Julien Green.
Contents:
The Orcival Murder [Le Crime d'Orcival] (1867) and File 113 [Dossier No.113] (1867) by Emile Gaboriau
Introduced and annotated by by Nina Cooper