The Human Ant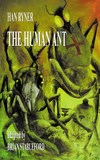 THE HUMAN ANT
AND OTHER STORIES
by Han Ryner
adapted by Brian Stableford
cover by Mandy

"Have you never desired to know what passes through the mind on another animal? Would you like to do the experiment? Would you like me to change you into an ant?"

US$22.95/GBP 14.99
5x8 tpb, 332 pages
ISBN-13: 978-1-61227-323-5

Han Ryner (1861-1938) was a French anarchist, a philosopher and a startlingly original science fiction writer in pre-Wellsian, French scientific romance; he was once voted the Prince of Storytellers by a popular magazine.

In The Human Ant (1901), a man is miraculously transformed into an ant by a fairy. Trapped into the universe of the ants for a year, he discovers the beauty, intelligence and heroism of this tiny species which, in turn, forces him to reflect upon the sad world of men.

In The Pacifists (1914), a small band of men shipwrecked in the Sargasso Sea encounter a peaceful utopian Atlantean civilization who have domesticated a universal form of energy.

The Human Ant is a relatively mild admonition to humans to broaden their minds and become more sensitively aware of their limitations; The Pacifists is a full-frontal assault on human vanity and so-called civilization.

Contents:
The Human Ant (L'Homme-Fourmi) (1901)
The Prophet's Bride (La Fiancée du Prophète) (1895)
A Transition (Une Transition) (1898)
Sacrifices (1902)
The Son of God (Cinquième Evangile) (1910)
The Promise (La Promesse) (1911)
The Living Corpse (Le Mort-Vivant) (1912)
Apologistes' Dream (Un Songe d'Apologistes) (1923)
The Pacifists (Les Pacifiques) (1914)
Introduction and Notes by Brian Stableford.