The Nyctalope and The Master of Life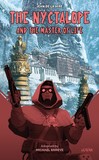 THE NYCTALOPE AND THE MASTER OF LIFE
by Jean de La Hire
adapted by Michael Shreve

cover by Ladronn.
You believe that this person might have deadlier goals, an objective that no mad genius could resist: to rule over the world! Because whoever is the Master of Death is also the Master of Life!

US$ 24.95 /GBP 22.99
6x9 tpb, 300 p.
ISBN-13: 978-1-64932-116-9
On the eve of World War II, Leo Saint-Clair, a.k.a. The Nyctalope, faces one of his deadliest enemies: a mysterious and unidentified foe who has the power to kill remotely by the simple exercise of his will. Who is this secret Master of Life? What are his goals?

To find, unmask and neutralize the "Master of Life" without first perishing, the Nyctalope and his friends must engage in a supreme battle of wits that takes them from a French spa to the far corners of the world—a forbidden lamasery in the heart of Tibet where the answers to all their questions lie.

The Nyctalope vs. The Master of Life, the twelfth adventure of France's earliest superhero, was first serialized in the newspaper Le Matin in 1938-39, but never collected in book form until today.

"The Nyctalope is fun because he straddles the line between pulp hero and superhero and uses elements of both." Travis Hiltz.

"One of the pioneers of superhero fiction." Jean-Marc Lofficier.



CONTENTS:
Introduction
Updated Bibliography
Le Maître de la Vie (1938)