The Tyranny of the Word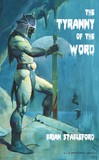 THE TYRANNY OF THE WORD
by Brian Stableford

cover by Mike Hoffman
The greatest of human errors, Semiaza says, is to think of that war as a war between good and evil. That, he says, is God's primary lie. God is not good, he says, nor is what God rejects and abhors evil.

US$20.95/GBP 12.99
5x8 tpb, 240 pages
ISBN-13: 978-1-61227-881-0

The novel is set in the 1480s, during the war in which the French annexed Bretagne.
At the Benedictine Abbey in Paimpol, a scholarly monk named Ollivier, reputed to have practiced necromancy, is buried under the watchful eyes of two Dominican heresy hunters, the burial only attended by his fellow scholar Brother Primael, who believes him to be innocent of any wrongdoing, and believes the same of Gilles de Rais, whose court at Tiffauges both men visited in their youth.
Before falling ill, Ollivier had spent three months at the Château de Tardivel and the forested region of Herbriant, where the epileptic chatelaine was once locked away by her husband as a madwoman, and her daughter Aidrena, is also chronically ill, while the young Vicomte who has recently inherited the title, Corentin, has indeed been practicing necromancy with Ollivier's aid. Primael is sent to Tardivel at Corentin's request, ostensibly to give succor to his mother and sister, but actually to assist him in his experiments in necromancy, now aimed at the summoning of Ollivier's spirit.
Primael is immediately engulfed in a nightmarish series of events, both hallucinatory and real, through which he must negotiate a path in the hope of deciding in which direction virtue really lies, and solving the puzzle of exactly what Ollivier and Corentin had accomplished in their necromancy, and what its consequences might be for the inhabitants of Tardivel.