The Virgin Orient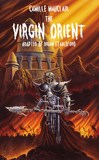 THE VIRGIN ORIENT
by Camille Mauclair
adapted by Brian Stableford
cover by Michel Borderie

"What is necessary, Messieurs, let us say it, is a unanimous rising of Confederated Europe before the yellow peril!"

US$29.95/GBP 20.99
5x8 tpb, 396 pages
ISBN-13: 978-1-61227-502-4

The Virgin Orient, an Epic Novel of the Year 2000 (1897) is the account of a preventive strike by Europe, united under the government of Anarchism, against the perceived Yellow Peril. Even though his accounts of two crucial battles fought in India are extended and bloody, Mauclair's primary purpose is not to detail the war but rather to analyze the crisis of conscience suffered by the Anarchist "dictator" once it is won.

Included in this volume are nine other fantasy stories, including Crown of Clarity (1895) and The Poison of Precious Stones (1903), written in the Symbolist style, remarkable for their sheer bizarrerie and flamboyant imagery.

Camille Mauclair (1872-1945) was one of the younger recruits of the Symbolist Movement that was a highly significant feature of the Parisian fin-de-siècle and included Stéphane Mallarmé, Remy de Gourmont, Jean Lorrain and Marcel Schwob.

Contents:
The Golden Keys [La Maison des clefs d'or] (1897)
The Gaze into Infinity [Le Regard dans l'infini]
Mechanical Death [La Mort mécanique]
The Life of the Princess Hérène [Vie de la princesse Hérène]
Lady Helena
The Foxgloves [Les Digitales]
The Demon of the Kiss [Le Démon du baiser]
Crown of Clarity, a Fantastic Story [Couronne de clarté] (1895)
The Virgin Orient, an Epic Novel of the Year 2000 [L'Orient vierge, roman épique de l'an 2000] (1897)
Preface to the 1897 edition of The Virgin Orient
Preface to the 1920 edition of The Virgin Orient
The Poison of Precious Stones [Le Poison des pierreries] (1903)
Introduction, Afterword and Notes by Brian Stableford.