The Wayward Muse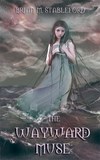 THE WAYWARD MUSE
by Brian Stableford

cover by Anne-Claire Payet

"There are some on Mnemosyne who think you're a wizard, Axel. There are others who think you're the Devil himself. At times like this, I could almost believe them."


US$20.95/GBP 12.99
5x8 tpb, 248 p.
ISBN-10: 1-932983-45-7
ISBN-13: 978-1-932983-45-6

Meet the enigmatic immortal Axel Rathenius, the mournful Hecate Rain, the mysterious Nicodemus Rham, keeper of the Lucifer's Light on Devil's Rocks, the flamboyant antiquary Ragan Barling, the necromantically-inclined Madame Vashti Savage, Eirene Magdelana, the morpheomorphist who lives on Snowspur Mountain communing with the winds, Myrica Mavor whose Galley walls exhibit the sacred and the profane, physician Fion Commonal, funeral director Emmaus Partibus, and all the other artists living on the island of Mnemosyne in the Everlasting Empire, 2,000 years after the birth of the Divine Caesar...

Brian M. Stableford has been a professional writer since 1965. He has published more than 60 science fiction and fantasy novels, as well as several authoritative non-fiction books. He is also translating the works of Paul Féval and other French writers of the fantastique for Black Coat Press which also published his most two recent fantasy novels: The New Faust at the Tragicomique and The Stones of Camelot.

Contents:
The Wayward Muse includes "The Secret Exhibition" and "The Incubus of the Rose" which appeared respectively in Weird Tales Nos. 317 (Fall 1999) and 321 (Fall 2000), plus "The Arms of Morpheus" which is original to this volume.
READ THE REVIEWS...
The world created by Stableford is original and extremely intriguing, deserving to be further developed in new, future instalments which, hopefully, will soon take shape.
Mario Guslandi
Emerald City