Timeslip Troopers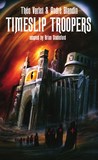 TIMESLIP TROOPERS
by Théo Varlet & André Blandin
adapted by Brian Stableford
cover by Mandy

The owner of the cellar--the English engineer--was the constructor of the machine described by H.G. Wells, and the machine that was resting here in the cellar, perhaps intact and ready to function, was neither more nor less than the famous Time Machine!

US$ 20.95 /GBP 12.99
5x8 tpb, 256 pages
ISBN-13: 978-1-61227-078-4

In Timeslip Troopers (1923), a squadron of World War I soldiers from the Trenches is transported back to the Spanish town of Valencia in the 14th century where they ally themselves with the Moors to fight the Spanish Inquisition. While it is one of several French novels inspired by H. G. Wells' The Time Machine -- purporting, in fact, to be its sequel -- it has more in common with Mark Twain's A Connecticut Yankee in the Court of King Arthur, in that its timeslipped protagonists set out to use the advantages of modern civilization, but eventually cannot prevail against Dark Age obduracy.

Written by the author of The Xenobiotic Invasion and The Martian Epic, Timeslip Troopers is one of the finest romans scientifiques of the period between World War I and the birth of American science fiction. It holds up remarkably well as an exploratory endeavor, and the quality of its cynical black humor is still as fresh as ever.

Contents:
La Belle Valence [The Beautiful Valencia] (1923)
Introduction and Notes by Brian Stableford.