Vamireh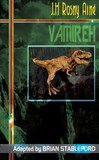 VAMIREH AND OTHER PREHISTORIC FANTASIES
by J.-H. Rosny Aîné
adapted by Brian Stableford
cover by Vincent Laik

Twenty thousand years ago, the North Pole was orientated toward a star in Cygnus. On the plains of Europe the mammoth was about to become extinct, while the emigration of the large wild beasts toward the Land of Light and the northward flight of the reindeer were coming to an end. The aurochs, the urus and the red deer were grazing forests and savannahs. The colossal cave-bear had perished in the depths of its caverns a long time ago...

Contents:
- Vamireh (1892)
- Eyrimah (1893)
- Nomai (1897)
Introduction and Afterword by Brian Stableford.

US$ 22.95 /GBP 14.99
5x8 tpb, 276 pages
ISBN-13: 978-1-935558-38-5

Rosny leant nobility to the prehistoric novel with classic works such as Vamireh (1892), Eyrimah (1893) and Nomai (1897), in which he combined the notions of modern drama with the ability to depict Man's early days in a colorful, yet believable fashion, straddling the line between mainstream literature and fantasy.
J.-H. Rosny Aîné is the second most important figure in modern French science fiction after Jules Verne. Rosny, who was a member of the distinguished Goncourt literary academy, was also the first writer to straddle the line between mainstream literature and science fiction. Until now, Rosny has best been known to the English-speaking public for his prehistoric thriller, Quest for Fire.

This is a series of seven volumes, six of which are translated and annotated by Brian Stableford, devoted to presenting the classic works of this giant of French science fiction.

Consulting editor: Paul Wessels.