The Adventures of Bearcub Ironskull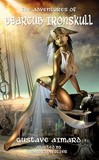 THE ADVENTURES OF BEARCUB IRONSKULL
by Gustave Aimard
adapted by Jean-Marc & Randy Lofficier
cover by Phil Cohen
US$ 22.95 / GBP 20.99
5x8 tpb, 284 pages
ISBN-13: 978-1-64932-207-4
Deeply rooted in popular culture, the world of piracy has given rise to many familiar characters. From Captain Hook to Long John Silver, Captain Nemo to Jack Sparrow, the adventures of pirates have graced the pages of many novels and seen a multitude of film and television adaptations.

Now welcome into these hallowed ranks Bearcub Ironskull from Tortuga Island, bent on looting the wealthy port city of Cartagena and reclaiming his lost love, Doña Erminia.

Initially published in France in 1868, this seminal French pirate novel, predating Treasure Island (1882) by fourteen years, has been reprinted many times and is considered a classic of the genre.

Its author, Gustave Aimard, was in his time as successful and popular as Eugène Sue and Paul Féval. He wrote about seventy novels and is still remembered today for such potboilers as Trappers of Arkansas (1858), The Outlaws of Missouri (1868) and The Bandits of Arizona (1882). Most of his western and pirate novels were translated into fifteen languages, but strangely not Bearcub Ironskull, which is made available in English here for the first time.


CONTENTS:
Introduction by Jean-Marc Lofficier
Bibliography of Gustave Aimard
OURSON TÊTE-DE-FER (1868)