Guardian of the Republic/Count Saint-Germain/John Mist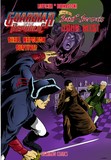 GUARDIAN OF THE REPUBLIC / COUNT SAINT-GERMAIN / JOHN MIST
Story by Jean-Marc Lofficier; art by Luciano Bernasconi; cover by Luciano Bernasconi.

SHALL NAPOLEON SURVIVE?
December 1804. Napoleon Bonaparte is about to be crowned Emperor of France by the Pope at Notre-Dame Cathedral in Paris. But the diabolical sorcerer Maleficus plans to assassinate him and take his place...
Against this sinister plan stand the Marquis de La Fayette, his faithful manservant, Albert Saint-Clair, known as the Guardian of the Republican, and the mysterious Count Saint-Germain, Maleficus' sworn enemy. However, the necromancer is not alone: he has joined forces with the formidable legendary Vampire Countess Addhema.
To win, our heroic trio have to call on a fourth champion forged in the flames of the Revolution: John Mist, whose hitherto mysterious origins are finally revealed!
A saga drawn from the most secret pages of French History, narrated by Jean-Marc Lofficer and Luciano Bernasconi.

7x10 squarebound comic, 48 pages b&w
ISBN-13: 978-1-64932-141-1. US$9.95