Strangers Origins: Jaleb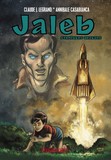 STRANGERS ORIGINS: JALEB
Stories by Claude J. Legrand; art by Annibale Casabianca; cover by Chris Malgrain.

1. JALEB THE TELEPATH
2. SECRET POLICE
3. THE GIRL FROM BOULDER TOWN

Jaleb began in the magazine Futura in 1972, which heralded the "Second Age" of French publisher Editions Lug, introducing an entire range of new characters such as Homicron, Aster, the Time Brigade, Jeff Sullivan, etc.

These were the brainchildren of science fiction writer Claude Legrand, who was influenced by the novels of great masters such as Poul Anderson, Robert Heinlein and Theodore Sturgeon.

Jaleb is accidentally left behind on Earth as a baby by a team of explorers from a Galactic Federation of telepaths. He is found and raised by a couple of Oregon farmers. As an adult, he uses his inherited telepathic powers for good as a private detective, but a chance encounter with a Federation Observer leads him to discover his true origins...

The first three episodes of this ground-breaking series by Legrand and artist Annibale Casabianca are collected here for the first time in English as part of a set devoted to the origins of the heroes who are later gathered together in Strangers.

7x10 squarebound comic, 128 pages b&w
ISBN-13: 978-1-64932-130-5. US$12.95.