Wampus #1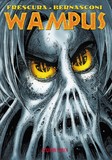 WAMPUS (VOLUME 1) by Franco Frescura and Luciano Bernasconi, cover by Stephen R. Bissette, colors by Oliver & Stephane Peru.

Contents:
- Foreword by Will Eisner
- Introduction by Lofficier
- Wampus #1-#4 by Franco Frescura & Luciano Bernasconi
- Epilog in Manhattan by Jean-Marc Lofficier & Luciano Bernasconi
- Bonus pages: Preview of Wampus #2.

A few years ago, our planet received an APOCALYPTIC visit... On a moonless night above the Pas-de-Calais, a mysterious creature with strange and terrifying eyes emerged from a glowing ball of fire ... WAMPUS!
"Tremble, Mankind! For I carry within me the message of the GREAT MIND! FEAR and CHAOS await you, uncontrollable signs of my imminent victory!"
Wampus wreaks havoc and destruction in Paris, Berlin New York, and Tokyo... The only man who can fight him is Jean Sten, ex-agent from the French Secret Service. This titanic battle where the stakes are nothing less than the fate of all Mankind was conceived in 1969 by Franco Frescura and Luciano Bernasconi.
WAMPUS, is a classic of French sci-fi/ horror comics.

7X10 tpb, 232 pages b&w
ISBN-10: 1-932983-61-9, ISBN-13: 978-1-932983-61-6 - US$20.95 / GBP 12.99


READ THE REVIEWS...
"I ate it up when my copy arrived and have already reread it, it's such grand fun; a heady stew of bogus sf/alien/espionage/terrorism circa the '60s, working up to staggering global political/social collapse (orchestrated by the translucent noodle-bodied badboy Wampus) that builds upon the anarchistic spirit of none other than Diabolik -- hence, a missing link of sorts in European comics history, between the archetype of Fantomas and the coming wave of underground comix radicalism. Love, love, love it, highly recommended!" S.R. Bissette.

Wampus is one of the great alien monsters of comics... [an] obscure gem of bande dessinée pulp paranoia.
Paul Gravett.