Frankenstein Meets The Hunchback of Notre-Dame: Two Stage Plays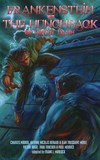 FRANKENSTEIN MEETS THE HUNCHBACK OF NOTRE-DAME
by Charles Nodier, Antoine Beraud & Jean Toussaint Merle and Victor Hugo, Paul Foucher & Paul Meurice
adapted by Frank Morlock
cover by David Rabbitte

"I am something terrifying, neither man nor animal, a thing more hammered and more deformed than any stone gargoyle." Quasimodo.

US$20.95/GBP 12.99
5x8 tpb, 228 p.
ISBN-10: 1-932983-38-4
ISBN-13: 978-1-932983-38-8

The Monster and the Magician, a rare 1826 French play by master fantasist Charles Nodier (with Antoine Beraud and Jean Toussaint Merle) revisits the legend of Frankenstein, recasting the legendary scientist as a sorcerer and his Monster as a mute killer from Hell.

The Hunchback of Notre-Dame was adapted by Paul Foucher and Paul Meurice and rewritten by Victor Hugo himself into a stage play that throws new light on the classic tragedy.

These two never-before-translated masterpieces are supplemented by The Passion of Frankenstein, an all-new story by translator Frank J. Morlock (Lord Ruthven), in which the Frankenstein Monster travels back in time to save Quasimodo, but does not count on the intervention of - Dracula!

Three tales featuring the two most tragic monsters in the history of Gothic literature, plus introductions by Frank J. Morlock.

Contents:
- Introduction by Frank J. Morlock
- Le Monstre et le Magicien (1826) by Charles Nodier, Antoine Beraud & Jean Toussaint Merle
- Introduction by Frank J. Morlock
- Notre-Dame de Paris (1850) by Paul Foucher, Paul Meurice & Victor Hugo
- The Passion of Frankenstein by Frank J. Morlock