A Man Among the Microbes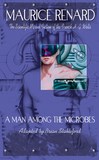 NOTE: YOU ARE PURCHASING AN E-BOOK, NOT A PAPER BOOK. WHEN ORDERING, PLEASE SPECIFY IN THE COMMENTS IF YOU PREFER A PDF OR AN EPUB FILE. THE FILE WILL BE E-MAILED TO YOU AS SOON AS PAYMENT IS RECEIVED.


A MAN AMONG THE MICROBES
by Maurice Renard
adapted by Brian Stableford
cover by Gilles Francescano

"I can't keep shrinking indefinitely!"
"Why not?" said Pons, who hesitated to pronounce those terrible words. "Instead of thinking of yourself as shrinking, imagine that you're moving away!"
"Going away, then," Fléchambeau traced.
"Yes, going away without moving!"
"And without any hope of return!"

Often hailed as the best French science fiction writer of the early 20th century, Maurice Renard coined the term "Scientific Marvel Fiction" to pen a series of gripping, ground-breaking stories that owe as much to Edgar Allan Poe as they do to H.-G. Wells. Until now, Renard was best known to the English-speaking public for his thrice-filmed thriller, The Hands of Orlac.

This is a series of five volumes, translated and annotated by Brian Stableford, devoted to presenting the classic works of this pioneering giant of French science fiction.

Contents:
- A Man Among the Microbes (Un Hommme chez les microbes, 1908)
- The Motionless Voyage (Le Voyage Immobile, 1909)
- The Singular Fate of Bouvancourt (La Singulière Destinée de Bouvancourt, 1909)
- The Rendezvous (Le Rendez-vous, 1909)
- Death and the Seashell (La Mort et le Coquillage, 1909)
- Parthenope (Parthenope, ou l'Escale Imprévue, 1909)
- The Sunlit Statue (La Statue Ensoleillée, 1909)
- A Christian Legend of Akteon (Une Légende Chrétienne d'Akteon, 1909)
Introduction and Afterword by Brian Stableford.

A Man Among the Microbes (1908) features an "incredible shrinking man" who, through miniaturization, reaches an inhabited micro-world where he meets scientifically-advanced aliens. This volume also includes The Motionless Voyage (1909), a story about an experimental anti-gravity flying machine.