Arsene Lupin vs Countess Cagliostro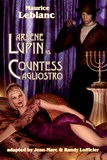 NOTE: YOU ARE PURCHASING AN E-BOOK, NOT A PAPER BOOK. WHEN ORDERING, PLEASE SPECIFY IN THE COMMENTS IF YOU PREFER A PDF OR AN EPUB FILE. THE FILE WILL BE E-MAILED TO YOU AS SOON AS PAYMENT IS RECEIVED.


ARSENE LUPIN vs. COUNTESS CAGLIOSTRO
by Maurice Leblanc
adapted by J-M. & R. Lofficier
cover by Christine Clavel

Raoul murmured: "She did it."
There was no need to explain who he meant. That "infernal creature" was synonymous with ruin, destruction, and pain. Beaumagnan had no need to search the ground, looking for a scrap of treasure. He knew that, in the wake of the witch, there could only be dirt and ashes left. She was the Embodiment of Evil, the very Spawn of Satan, the incarnation of nothingness and death.


At long last, Arsène Lupin's greatest epic battle is presented in English in a single omnibus volume.

Countess Cagliostro (1924) marks the first great adventure of a 20-year-old Lupin, pitting him against the beautiful but deadly Countess Cagliostro, in an attempt to find the treasure of the Candlestick with Seven Branches. It is presented here for the first time in a new, unabridged translation.

The 1935 novel Countess Cagliostro's Revenge, never before translated, tells of the lethal Countess's revenge upon a 50-year-old Lupin.

The book also includes The Queen's Necklace, a short story recounting an adventure of Lupin when he was a child which ties in with the Cagliostro legend, the all-new The Death of Countess Cagliostro, written by Jean-Marc & Randy Lofficier, and a timeline.
Contents:
- Introduction by Jean-Marc Lofficier
- The Queen's Necklace (Le Collier de la Reine, 1906) by Maurice Leblanc
- Countess Cagliostro (La Comtesse de Cagliostro, 1924) by Maurice Leblanc
- Countess Cagliostro's Revenge (La Cagliostro Se Venge, 1935) by Maurice Leblanc
- The Death of Countess Cagliostro by Jean-Marc & Randy Lofficier
- Timeline