Belphegor, The Phantom of the Louvre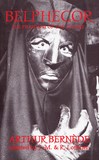 NOTE: YOU ARE PURCHASING AN E-BOOK, NOT A PAPER BOOK. WHEN ORDERING, PLEASE SPECIFY IN THE COMMENTS IF YOU PREFER A PDF OR AN EPUB FILE. THE FILE WILL BE E-MAILED TO YOU AS SOON AS PAYMENT IS RECEIVED.


BELPHEGOR, THE PHANTOM OF THE LOUVRE
by Arthur Bernède
adapted by J-M. & R. Lofficier

All of a sudden, the lights were extinguished. The workshop was plunged in darkness. The two women gave a start, then remained totally still. Their eyes were riveted on a little door at the end of the studio, which was slowly opening. A cry of terror escaped them.The Phantom of the Louvre had just come through the door!

The sinister, ghostly presence of the mysterious Belphegor is haunting the Louvre, seeking the Treasure of the Kings of France. Against him are pitted the indomitable Chantecoq, the King of the Detectives, and the fearless journalist Jacques Bellegarde. A duel to the death begins between the murderous Phantom of the Louvre and his enemies throughout the City of Lights.

Written in 1927 by Arthur Bernède, the author of Judex, this classic of French criminal literature spawned no less than three motion pictures, one television series and one animated show. This new, unabridged translation by J-M. & R. Lofficier also includes a detailed synopsis of the celebrated 1965 remake starring Juliette Greco.

Contents:
BELPHEGOR (1927)
BELPHEGOR (1965)
Introduction & Notes by Jean-Marc Lofficier