City of Glass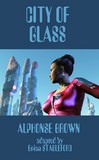 NOTE: YOU ARE PURCHASING AN E-BOOK, NOT A PAPER BOOK. WHEN ORDERING, PLEASE SPECIFY IN THE COMMENTS IF YOU PREFER A PDF OR AN EPUB FILE. THE FILE WILL BE E-MAILED TO YOU AS SOON AS PAYMENT IS RECEIVED.


CITY OF GLASS
by Alphonse Brown
adapted by Brian Stableford
cover by Jean-Felix Lyon

But how we loved our city of glass! Was it not a marvel unknown to the world, surpassing all those that human genius accumulates in its rich capitals? Nothing was as admirable as our lagoon, on which the flock of all the birds that we had captured frolicked. In and beside the pools build on the borders of our miniature Niagara, a few fur-seals played in the crystalline water or rested nonchalantly on the heaps of snow with which we covered the siliceous ground.


Twenty years before Peary, a French scientific expedition to the North Pole becomes stranded in the ice. Because of their knowledge and local resources, they manage to build a super-scientific city dubbed Crystalopolis. However, rival American and Russian explorers threaten the new conquerors of the Arctic...

Alphonse Brown was one of the first French writers to follow in the footsteps of Jules Verne, penning a series of "extraordinary voyages," relying on air power and futuristic inventions. He was one of the main contributors to the leading scientific anticipation magazines La Science illustrée (in which City of Glass first appeared in 1890) and Le Journal des Voyages, for which he wrote the 1901 classic The Rain Makers, predicting the science of weather control.

Contents:
Une Ville de Verre (A City Of Glass) (1890-91)
Introduction and Notes by Brian Stableford.