Eurydice's Lament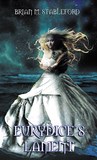 NOTE: YOU ARE PURCHASING AN E-BOOK, NOT A PAPER BOOK. WHEN ORDERING, PLEASE SPECIFY IN THE COMMENTS IF YOU PREFER A PDF OR AN EPUB FILE. THE FILE WILL BE E-MAILED TO YOU AS SOON AS PAYMENT IS RECEIVED.


EURYDICE'S LAMENT
by Brian Stableford

cover by Fleurine Rétoré

"The portrait of Mariette as the shade of Eurydice was, perhaps, where the thirteenth presence in the room was located, if there really was a thirteenth presence external to our minds...."

The enigmatic immortal Axel Rathenius has been commissioned to paint a triptych illustrating the life of Orpheus. Meanwhile, an enigmatic legacy propels him, his agent Myrica Mavor, Madame Vashti Savage the medium,and the mournful poet Hecate Rain in the midst of a conflict between the rival cults of Orpheus and Dionysus.

Brian Stableford's latest novel, Eurydice's Lament, returns to the artists' colony of Mnemosyne, an island off the northern coast of what in our world is called France, in the Everlasting Empire, 2,000 years after the birth of the Divine Caesar...

Brian M. Stableford has been a professional writer since 1965. He has published more than 60 science fiction and fantasy novels, as well as several authoritative non-fiction books. He is also translating the works of Paul Féval and other French writers of the fantastique for Black Coat Press which also published his most two recent fantasy novels: The New Faust at the Tragicomique and The Stones of Camelot.

Contents:
Eurydice's Lament (2015)
READ THE REVIEWS...
The world created by Stableford is original and extremely intriguing, deserving to be further developed in new, future instalments which, hopefully, will soon take shape.
Mario Guslandi
Emerald City